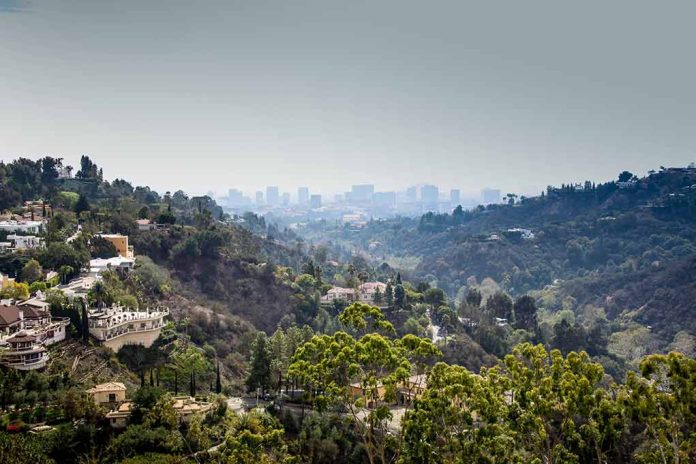 (Daily360.com) – California is quickly earning a reputation as a lawless state where criminals have destroyed the quality of life in several cities and the choice of citizens who live there is to leave in large numbers. An incident making headlines in Los Angeles where several squatters destroyed a million-dollar home would seem to be more evidence of the state's rapid decline. 
The sprawling 11,000 square foot mansion located in the Hollywood Hills was the scene last week when the police received a call reporting a woman who was heard screaming in distress. When cops arrived one of the first things they saw was large graffiti writing reading "f**k rich people." As they made their way into the home they saw more graffiti, fecal matter on the floors, ruined furniture, and several broken windows.
The police quickly ascertained the people within the house were squatters and the woman who was reported screaming was likely bitten by a dog on the premises. Prior to the squatters, this home was valued at $10 million dollars and featured niceties like a home movie theater, a large pool, and two gourmet kitchens. The police could do nothing more than cite the two women and one man present for trespassing and release them. 
In California many crimes of this level have been downgraded and are no long typically arrest-worthy offenses. Neighbors say the three people who were cited had been in the home for just under a week. One of the women claimed she was authorized to be there for the purpose of getting the house ready to be sold. The home's real estate agent disputed this claim and said she had no authorization to be there.
A spokesperson for the LAPD said this is no longer an unusual occurrence in the area. They also said they contacted the owner and verified the home was not abandoned but are unclear if anyone was rightfully living there. Another story that made news earlier in the year featured a squatter in this same home who barricaded himself in along with his dog and allegedly pointed a shotgun at a person in the neighborhood. 
Copyright 2023, Daily360.com