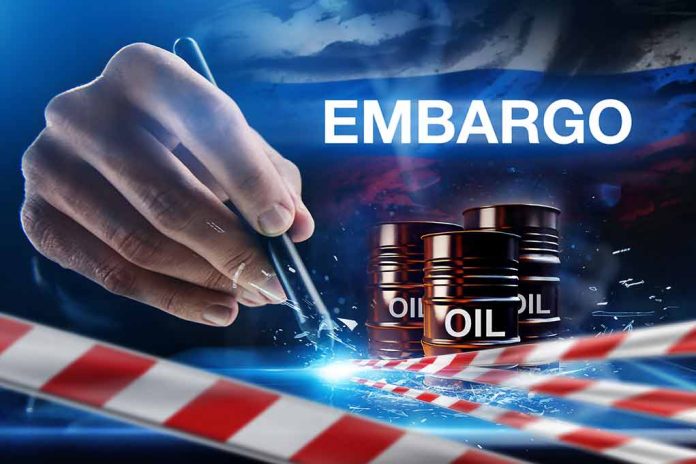 (Daily360.com) – The Biden Administration frequently claims that it does much for people of color, and that the only people who have a problem with their actions are 'white supremacists.' 
The Navajo Nation disagrees with that assessment. Recently, two Biden officials were blocked and not allowed on reservation land in New Mexico. Interior Secretary Deb Haaland and the head of Bureau of Indian Affairs Bryan Newland were met by hostile natives hold signs reading "No Trespassing and "Go Home." The officials could not enter the land for their scheduled celebration of the administration's oil leasing ban. 
While the administration is all in for 'green energy' at any cost, the locals are not as fond of the policy. The federal officials saw themselves as the victims of the situation. Haaland referred to being blocked from entering as "not ideal" and said blocking her access to the area as "heartbreaking" because "public lands belong to all Americans."
Early this month Haaland instituted a full ban on gas, oil or mineral leasing within 10 miles of the Chao Canyon for the next 20 years. The Navajo community was outraged; they fought and lobbied hard for this ban not to be instituted. Community leaders told Haaland this would have a very negative impact on low-income native citizens who need the revenue from leasing their land. 
Buu Nygren, the Navajo Nation President, said the administration "totally disregarded" the needs of his people. He said the event to celebrate was rightfully blocked as people shouldn't celebrate "going after people in poverty." Fifty-three Indian land allotments exist on that land. Leasing generates $6.2 million per year for over 5,000 residents. Founder and executive director of Power the Future, Daniel Turner, praised the community for stopping the officials and said for the Biden administration "the green agenda always comes first."
Copyright 2023, Daily360.com