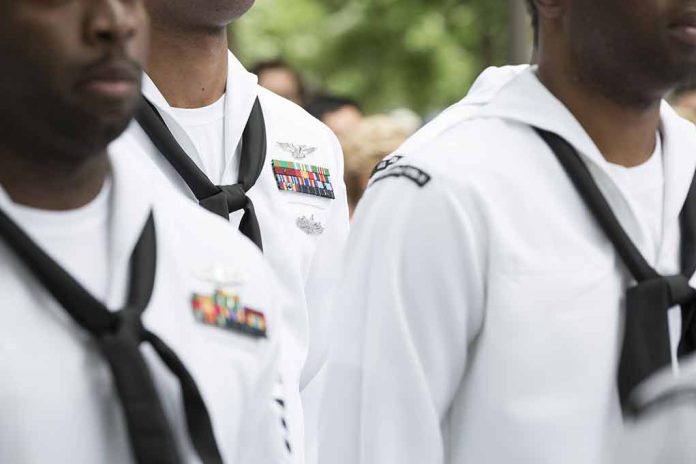 (Daily360.com) – Emails released through a Freedom of Information Act request made by Functional Government Initiative show some US Navy personnel have a superior attitude about their 'woke' agenda and a disdain for anyone who doesn't share it. One naval official refers to potential social media detractors as "a**holes" and "bigots." The highlighted emails show an exchange between officials relating to official Navy insignias and logos repurposed with LGBT rainbow coloring. All the names are redacted; one official writes they are lacking the "emotional energy" to deal with potential "rude" replies noting they had a "really rough day."
This official asked another if they should post the "rainbow wingtip graphic" with comments and replies disabled thus sparing themselves potential trauma. The official's email was replied to by The Navy's assistant chief of information, who replied that the key was the "righteousness of our cause." That 'cause' he is referring to is not that of the US Navy but rather the LGBT messaging they are trying to promote. The chief of information officer's name was also redacted; he wrote that the "savory" members of the audience would be emboldened by seeing these rainbow themed posts. 
The official responded back wondering if they should inform leadership of the LGBT themed imagery they were going to post first or just put it up. They wrote that "bad actors" can't be a deterrent from "doing the right thing" and that any amount of "clobbering" they may see written in response is worth it due to the "righteousness of our cause." This official also noted that no matter how much "bile" they receive unless "otherwise directed" they will not engage with the replies. In the end they decided to post the imagery and then give a 'heads up' to superior officers. This year the Navy changed their social media art to rainbow themed for a short time on June 1st before changing it back to the traditional images. The Navy is expected to miss recruitment goals by roughly 16% in 2023.  
Copyright 2023, Daily360.com