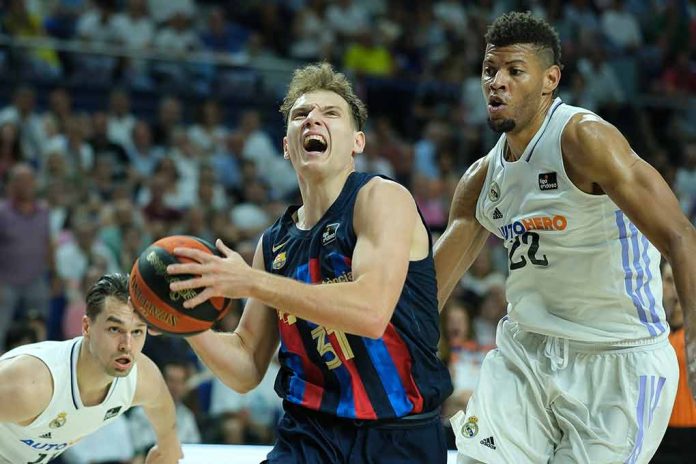 (Daily360.com) – NBA basketball star Kevin Porter Jr. has been released in New York City after he posted $75,000 bail. The Houston Rockets guard had been arrested after an alleged long-lasting physical attack on his girlfriend Kysre Gondrezick. 
The couple were staying at the high-end Millennium Hilton New York Hotel in Midtown Manhattan when Gondrezick says Porter repeatedly punched her several times, leaving a large gash above one eye. She said he then choked her to the point where she could no longer breathe. Porter said the incident only ended because she was able to flee the room before being discovered bloodied and bruised by hotel staff. 
NYPD officers arrested Porter Jr. in the early morning hours on Monday; he was charged with strangulation and assault. Gondrezick, a former player in the professional women's WNBA basketball league, was taken to a nearby hospital where doctor's diagnosed her with a broken vertebra in her neck. 
Prosecutors were asking for bail to be set at $100,000 as they argued Porter Jr. has a long history of violence toward Gondrezick. They referenced an incident where he rammer her car with his in a fit of rage. New York prosecutors are also concerned that Porter has access to multiple firearms at his Houston residence. The judge instead set bail at $75,000 and issued a temporary restraining order against the player. 
Porter had previously played for the Cleveland Cavaliers but was traded to Houston after a series of emotional outbursts culminating in a screaming and food-tossing incident after he didn't like that his locker was moved. In 2022, Porter Jr. needed to be separated from assistant head coach John Lucas during a halftime altercation where Porter is alleged to have thrown something at Lucas amid the argument. Porter signed a new $63.4 million contract with the Houston Rockets in 2022. After posting bail Porter left in a waiting car and will be due back in court on October 16th.
Copyright 2023, Daily360.com