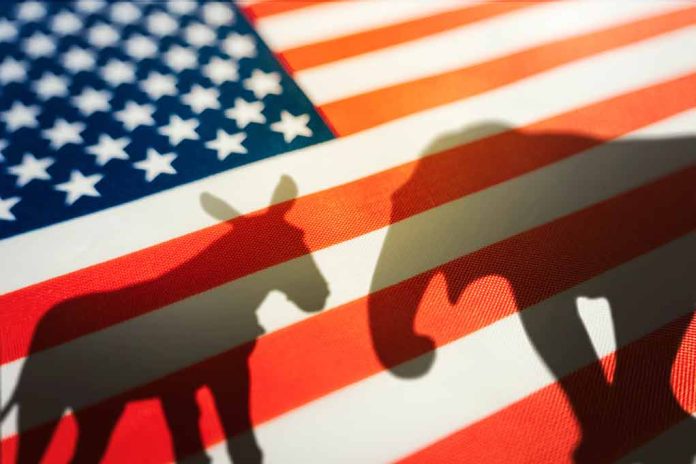 (Daily360.com) – Earlier this week Joe Biden announced his re-election campaign by posting a video online, not a press conference, no questions asked and answered, just a video promoting how well his first four years have gone thus far. Perhaps once the ad is seen it will win back Democrat voters who responded to a Rasmussen poll taken prior to the Biden video release which were less than enthusiastic about the prospect of four more years of Joe Biden.
The perhaps surprising results of the poll showed nearly one-third of Democrats see themselves as at least 'somewhat likely' to vote third party in 2024. The poll shows most voters haven't ever voted third party before but as it stands now are more in favor the possibility. 
The overall sample showed 59% of respondents said it's 'not very likely' that they'd vote third party. The majority of the remaining percentages are Democrats with 35% saying third party is potentially 'likely' and 15% saying 'very likely.'
Republican candidates should not be sticking their chests out however as the poll revealed 29% of their voters will consider a third party candidate while 11% say they will very likely choose one. Independents fall right in between the two as 30% say a third party option is likely for them. Those participants were asked which party would likely be hurt more by a third-party candidate and the answer was Republicans at 31% compared to just 25% for Democrats.
When you dig deeper into the numbers you see that Biden's strongest supporters believe the third party will hurt him more than his more passive base. 41% of people who "strongly approve" of the job Biden is doing believe a third-party candidate hurts his re-election bid whereas only 10% of the people who "strongly disapprove" of Biden feel it would. Another wrinkle comes with candidate Robert F. Kennedy Jr. who recently announced his bid and already has the support of 14% of 2020 Biden voters.   
Copyright 2023, Daily360.com