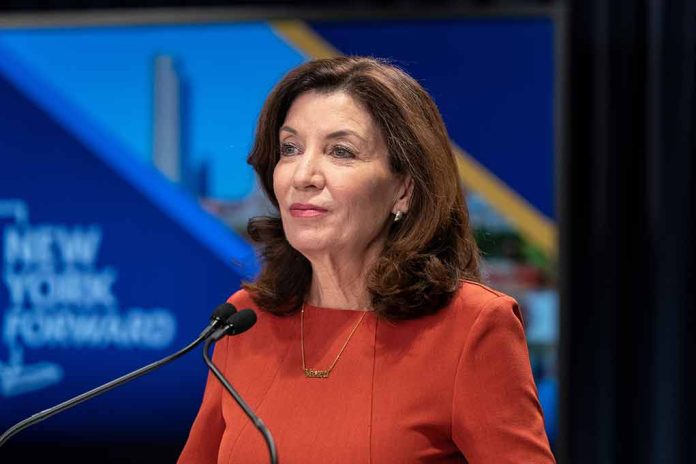 (Daily360.com) – New York's newly-elected governor Kathy Hochul is quite good at writing pro-abortion tweets but it seems that may be the extent of it. Hochul authorized about $2 million in payments much of which went to Deloitte Consulting and Boston Consulting Group to craft her remarks for State of the State (SOS) speeches. This year's speech saw payments of $871,000 be sent off to three different firms for what was recorded officially as "SOS support." Gotham Ghostwriters collected $25,000 from New York's first female governor to help her hire a writer to pen the book "Achieving the New York Dream," the official 277-page State of the State book. This perhaps literary masterwork outlines Hochul's agenda for budgets regarding housing, bail laws, taxes, and other issues of course including abortion which is referenced several times throughout. The book also warranted $8,000 of taxpayer money to be edited.
In 2022, Hochul spent over $60,000 for similar support from a firm called Fenway Strategies which was founded in 2013 by Barrack Obama's former chief speechwriter John Favreau along with Obama's national security spokesman Tommy Vietor. Also in 2022, Deloitte earned over $1 million in New York tax money to assist with a book and Hochul's first speech as governor. The three prior governors Andrew Cuomo, David Paterson, and George Pataki claim none ever paid any money for outside help in crafting the annual January address.
A Hochul spokesperson named Julie Wood said the outside firms only provided supporting roles to organize catalog proposals and had no input in the governor's policy in any way. The firms may not have written a speech for Cuomo, but they made plenty of money through his office as he hired both to provide him with strategic advice with decisions regarding the budget in 2019. At that time they collected $30 million in taxpayer money, and now they collect over $250 million largely due to "emergency" orders related to the pandemic.
Copyright 2023, Daily360.com