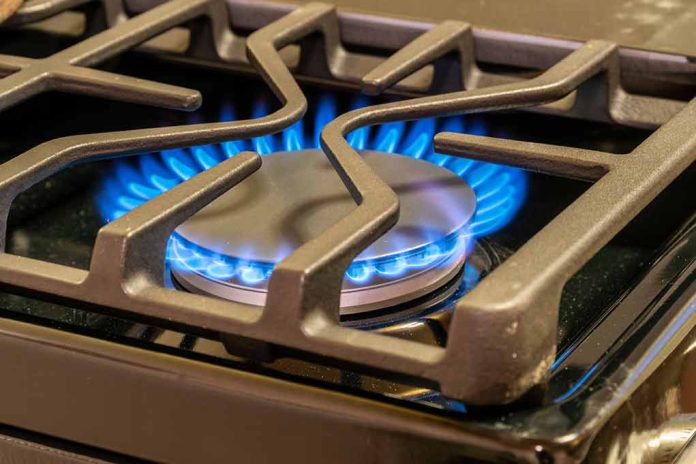 (Daily360.com) – New York is losing population faster than any other state, crime is skyrocketing and Manhattan is overrun with and spending a fortune on illegal aliens but Governor Kathy Hochul is focused on gas in homes. Hochul has been pushing the legislature to ban the home energy source citing the 'climate change crisis.'
She seems to have a handshake agreement to ban gas hookups in buildings under seven stories tall by just 2026 and all new buildings by 2029. Hochul has been praising herself for this policy and its climate fighting potential. Residents of New York have been less cheery over the proposition; people from all throughout the state have voiced their disapproval with what they say is a government overreach. A man from Queens wrote to the New York Post asking how an electric stove will change the weather. Another from Long Island exasperatedly wrote asking how this helps failing schools, crime and the toll for illegal aliens.  
The Democrats will be pushing through a $229 billion budget for the declining Empire State which will include multiple pushes for electric energy and other green initiatives. The budget which was due on April first is a month overdue and is expected to be rushed for approval once finally delivered. 
The gas stove ban is actually supported by around 39% of people polled in a recent Siena College survey. It would not affect restaurants yet, as that was determined to likely wipe out the restaurant business. In an all too typical side note, Hochul herself has gas stoves in the Executive Mansion which she will be keeping.
As more and more buildings are forced to become all electric the demands on the power grid especially in the winter may prove more than can be handled. Especially, when combined with the fact New York State has already banned all non-electric car sales beginning in 2023. That ban will put further demands on the power grids in the state which without major additions and upgrades will not be able to handle the coming demand via mandate. 
Copyright 2023, Daily360.com