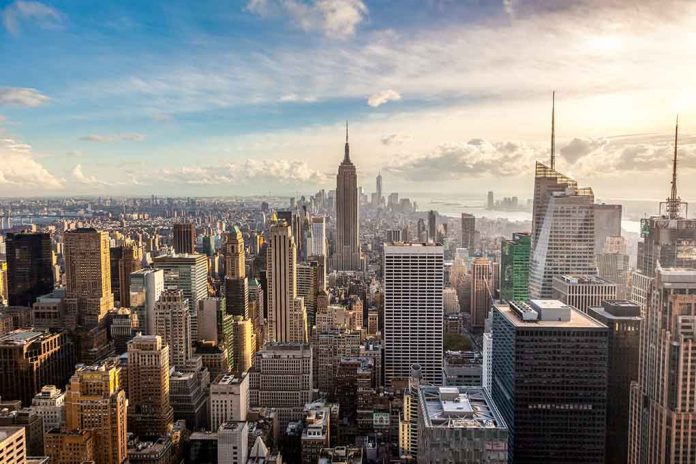 (Daily360.com) – On New Year's Eve 2022, as countless people in Times Square were getting ready to watch the ball drop and ring in the fresh new year, a terrifying incident occurred. According to NYPD Commissioner Keechant Sewell, a man swinging a machete at West 52nd Street and 8th Avenue hit and injured three police officers near a security screening zone. The man was identified as 19-year-old Trevor Bickford. Since then, some new information about a possible motive has come to light.
On January 4, The Washington Free Beacon reported that prosecutors allegedly believe Bickford attacked because the US supports Israel. According to the source, the district attorney's office in Manhattan revealed the motive during the suspect's arraignment on January 3. Assistant Prosecutor Lucy Nicholas said Bickford believes US officials are unable to be "proper Muslims" because of America's stance on Israel.
NYC Times Square New Years Eve attacker Trevor Bickford was motivated by his hatred of Israel & America's support of the Jewish nation according to security sources. 

Bickford traveled to NYC to 'carry out jihad' say prosecutors, who charged him with assault & attempted murder. pic.twitter.com/g3AAgTf2hl

— StopAntisemitism (@StopAntisemites) January 5, 2023
On January 2, The New York Times reported that Bickford left a goodbye letter for his family. In it, the suspect allegedly wrote about his fear that his mother would "not repent to Allah" and hoped she believed enough to save her from eternal damnation. Apparently, the man recently converted to Islam and was upset about the treatment of Muslims in other areas of the world. The NYT reported Bickford didn't want to accidentally hit innocent people, so he waited until the officers were alone to strike.
Prosecutors confirmed Bickford's motive in court, saying he traveled to New York for the sole purpose of murdering people and "carry[ing] out jihad."
The suspect has been charged with attempted murder and attempted assault and, according to ABC6, authorities could add a terrorism charge as well. All three officers survived the attack, and the two who required medical treatment are no longer in the hospital.
Copyright 2023, Daily360.com