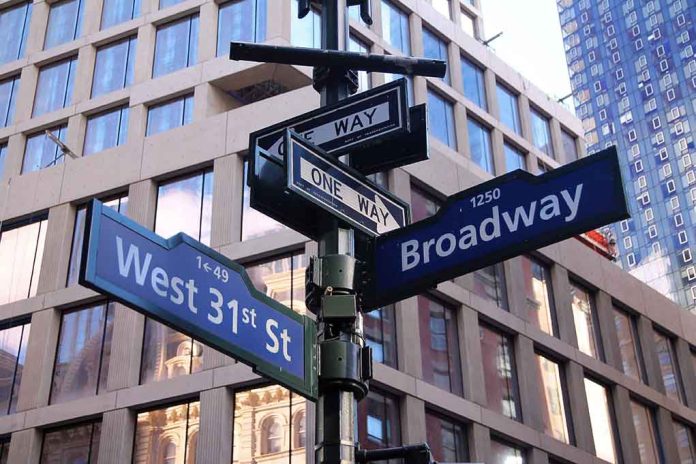 (Daily360.com) – Last week a man named Moussa Diarra was working at a parking garage on West 31st Street in Manhattan, New York when he was attacked by a gun-wielding thief named Charles Rhodie. Diarra saw Rhodie carrying a bag and looking through the car windows. When confronted Rhodie shot Diarra twice, a struggle ensued as Diarra fought for his life. Diarra was able to wrestle the gun away from Rhodie and then shot him to even things up. This action likely saved Diarra's life but left him badly wounded.
Diarra was taken to a hospital, where he awoke handcuffed to the bed. He was to be charged with crimes including attempted murder of the man who shot him and criminal possession of a weapon for grabbing the gun from the man shooting him. Diarra's lawyer said the 48-hour period where he got shot, had surgery for two bullet wounds, one to the gut and another near the ear, and the legal issues and charges were a lot for his family to bear.
New York City District Attorney Alvin Bragg has been in the spotlight lately for being too soft on crime and pursuing politically motivated cases and decided to drop the charges against Diarra "pending further investigation." As crime increases in the city so do events similar to this. Recently another man who works at Harlem fish market named Junior Aquino Hernandez was confronted by two burglars who had returned after being thwarted earlier. During the latter incident, Hernandez fatally stabbed one and wounded the other. He was initially charged with murder but after some publicity, his charges were also dropped "pending further investigation."
Perhaps the most widely known case like this happened last year and was caught on video. Bodega worker Jose Alba was being beaten and assaulted behind the store counter. He was eventually able to grab a knife and stab the younger assailant. Alba was initially charged with murder and sent to Rikers Island jail. National media attention and public outcry similarly saw those charges dropped.
Copyright 2023, Daily360.com