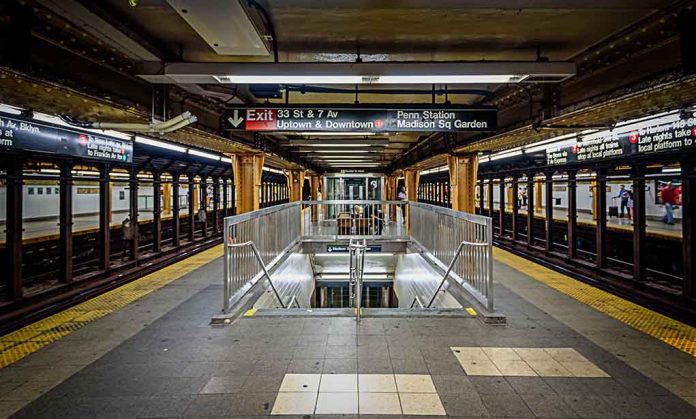 (Daily360.com) – In April 2022, as people were heading to work that morning, a man wearing a gas mask entered the subway station in Brooklyn, New York, tossed a couple of smoke canisters, and started firing inside the N train near the 36th Street Station. In all, the suspect shot 10 people and injured 13 more. Detectives quickly identified Frank James as a "person of interest," who was subsequently arrested and charged with the crime.
On January 3, James pleaded guilty to multiple counts of committing a terrorist attack or violence against the subway — 10 total — and one criminal charge for firing his weapon during the event. The Department of Justice stated the criminal fired his Glock 17 pistol over 30 times, hitting the passengers and causing terror among commuters present that morning. Attorney General Merrick Garland said the Department will continue to hold terrorists and those who participate in "mass violence" accountable for their actions.
Frank James Pleads Guilty to Mass Shooting on New York Subway

Defendant Attempted to Kill Dozens of Commuters During Rush Hour in Brooklynhttps://t.co/ek4MVypXTD

— Justice Department (@TheJusticeDept) January 3, 2023
According to Assistant Director in Charge Michael Driscoll of the FBI New York Field Office, James carefully planned his assault on the New Yorkers and admitted as much with his guilty plea. The investigation showed the perpetrator began collecting weapons to use during such an attack way back in 2017 and used the Internet in the months leading up to the incident to iron out every detail of his plot. James even alluded to his terrorist intentions on video before striking the subway. In fact, his posts online prior to the attack gave clues about his motivation and perhaps his plans.
NBC News reported James revealed to The Associated Press months after his arrest that he has struggled with mental illness, but said he is a "good person at heart." New Yorkers on the subway that day and those worried about riding it since the incident might disagree with that assessment.
Sentencing has yet to take place, but James faces up to life in prison for his crimes.
Copyright 2023, Daily360.com