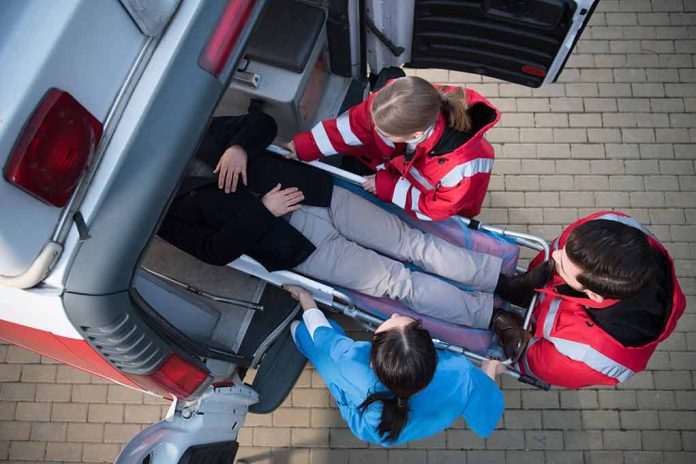 (Daily360.com) – An ambulance company located in North East England is apologizing to the family of a woman who was pronounced dead only to wake up later in the day. North East ambulance service (NEAS) picked up a woman described to be in her mid 50's after what they only describe as an 'incident'. Durham police say while onboard the ambulance she was declared dead by the attending personnel. Her "death" was described as "unexpected" officials said a a postmortem would need to be performed to find out why she died.
The patient was delivered to Darlington Memorial Hospital, where she shockingly woke up. The director of paramedicine at NEAS, Andrew Hidge, issued a statement saying the patient's family had been contacted and an investigation into how this happened has been opened. He also apologized for any distress they may have caused the family and said he'd not comment further until their investigation was completed.
NEAS was in a similar position last year, having to apologize to families after whistleblowers revealed a coordinated effort to cover up for paramedics who had caused the deaths of some patients under their care. At that time an NEAS executive offered "unreserved apologies" for their managers misrepresenting actions taken by paramedics on their official incident reports. A report published after investigating these incidents cited "significant issues" within the culture and behavior of NEAS leadership.
In June of this year, a woman named Bella Montoya, 76, of Babahoyo, Ecuador, was declared dead after what doctors suspected was a massive stroke. Montoya was taken to a funeral parlor and placed in a casket where her family mourned her prior to her planned burial. After about five hours, family members opened the casket to change her clothes for burial and were stunned when Montoya gasped for air and moved her left hand. The family called for an ambulance, firefighters arrived and took the woman back to the hospital where she had been declared dead. She was put on oxygen and her vital signs stabilized.
Copyright 2023, Daily360.com