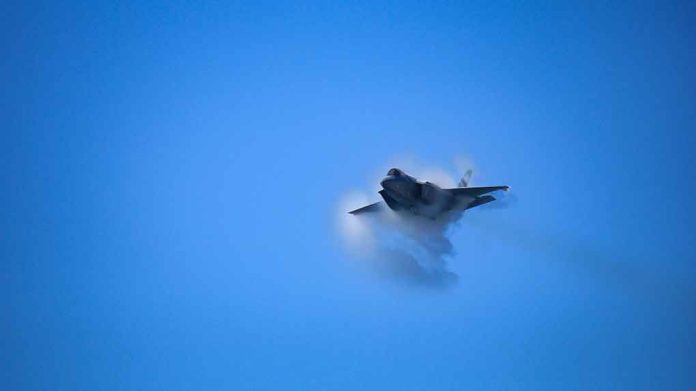 (Daily360.com) – Through all the other news ranging from concern about the looming government shutdown to John Fetterman's new dress code rules and Joe Biden almost falling outside a New York restaurant, the number one story dominating headlines was about a missing F-35 fighter jet. The jet's pilot safely ejected from the craft over the weekend but the aircraft could not be located. 
The as-yet-unnamed pilot ejected over South Carolina and parachuted safely into a North Charleston neighborhood Saturday afternoon. He was taken to a local hospital as a precaution but checked out fine and was listed in stable condition. 
However, days later the military could not find the airplane he ejected from. They used trajectory estimates as well as searching the last known area of flight but nonetheless could not locate the craft. The F-35B Lightening II is a supersonic stealth class fighter jet. It can fly at supersonic speeds while maintaining its ability to evade radar detection. The military began searching nearby terrain and lakes for the roughly $80 million airplane. 
After a couple of days of searching the military now believes they have found the F-35's wreckage. They found debris in a Williamsburg County which is located just north of Charleston. A United States Marines spokesman confirmed it was the missing aircraft and advised people to stay out of the area for the time being. Prior to its discovery, social media and other media were abuzz with theories and wild conjecture about what may have happened to the F-35. Representative Nancy Mace (R-SC) even took to social media asking openly what the goal of the government was, did they want the public to "find the jet and turn it in"?   
It's not known at this point what prompted the pilot to bail out of the F-35 while a second pilot who'd been flying with that pilot landed his F-35 without incident after the same training exercise. The Marines have reported three "Class-A aviation mishaps" which are incidents involving over $2.5 million or more in property damage, over the last six weeks. 
Copyright 2023, Daily360.com