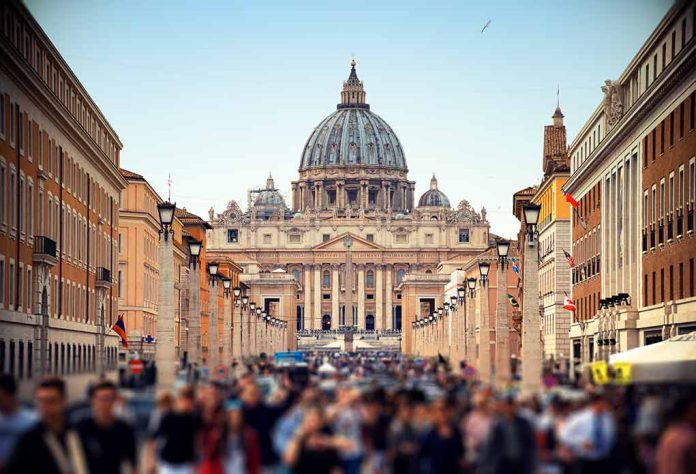 (Daily360.com) – The head of the Catholic Church, Pope Francis, is making waves again. The pontiff suggested he may soon be willing to allow for alternate blessings on same-sex marriages.
He made the statement as five cardinals requested that he re-affirm the church's position on same sex unions and the LGBT agenda. Francis responded to the five question letter from the cardinals with a letter of his own that has been published by the Vatican. The pope suggested alternate blessings may be considered, but not an official marriage sacrament ceremony.
LGBT Catholic advocacy group New Ways Ministry was happy about the Francis letter as they put out statements saying it "significantly advances" their efforts to normalize same sex partnerships within the faith. They further remarked they see the letter as the biggest step forward to ending their "marginalization" within the church.
Catholic doctrine holds the sacrament of marriage as solely between one man and one woman. As such, same sex marriage has always been a non-starter within the institution. Pope Francis, who is generally quite progressive in his views, has made other statements supporting civil legislation on behalf of same-sex unions. Additionally, Catholic priests who have decided to alternately bless these unions have not been censured by this Vatican administration.
Francis called for "prudence" as he is not condoning same sex marriage and is certainly not trying to see it be accepted as a marriage sacrament. Instead he's proposing that some level of "pastoral charity" be applied to gay couples. He means that they may be sinners not completely at fault, who may later seek redemption.
The cardinals who wrote the letter were not supportive of Francis' position as they felt it violated Catholic Church teachings. They were also displeased with Francis for not answering the five-question letter the first time they sent it. Francis did not answer the questions, forcing the cardinals to send a second letter. The remaining cardinals did not publish Pope Francis' reply but instead sent a third letter with five questions, this time all requiring only yes or no answers.
Copyright 2023, Daily360.com