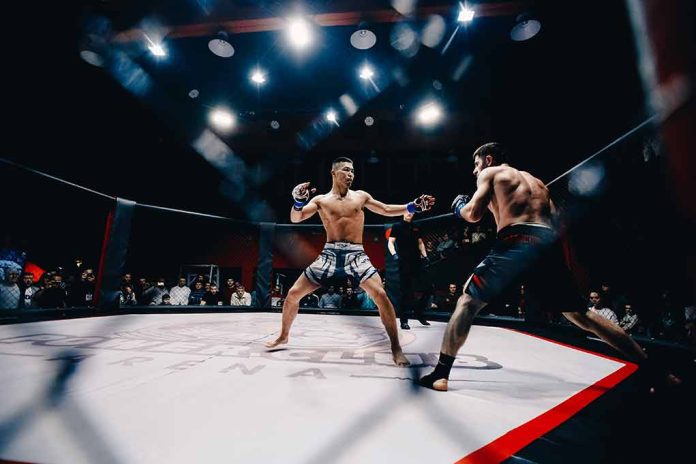 (Daily360.com) – Heavyweights from the UFC and WWE were at the New York Stock Exchange this week to cheer on their new publicly traded joint venture company "TKO." The deal was announced just before trading opened as the number one company in professional wrestling, the WWE, merged with mixed martial arts behemoth, UFC.
As a joint company, they boast a fan base of over one billion fans with a young core demographic as well as a globally diverse one. UFC's parent company Endeavor will maintain controlling interest in the new company with 51% versus WWE's 49%.
Longtime WWE head man Vince McMahon will be ceding control after many decades to Endeavor's CEO Ari Emanuel. McMahon will hold a role as executive chairman but Emanuel will hold the CEO title at TKO. Dana White will remain the CEO of the UFC, Lawrence Epstein will remain UFC COO and Nick Khan is president of WWE which includes both Smackdown and Raw. The board will contain 11 members and be made up of executives from both of these entities as well as others from the outside.
The new company was given a $21 billion enterprise valuation with about $2.5 billion in annual income. The plan with TKO is to maximize live sports programming which is becoming an ever-more coveted product in the digital media age. Executives involved in this deal are expected to bring these two fanbases together. The two groups have long been seen as having little overlap—WWE is more "family-centric" while UFC is more "college-age" and global. WWE social medial has 1.2 billion followers compared to 700 million for UFC.
The broadcasting and streaming rights for both properties are all ending over the next two years, making this a good time to merge them and renegotiate new deals under one umbrella. The leagues will not be merged, at least in the near term. Executives say there are possibilities for combining them globally but within the United States they will remain separate.
Copyright 2023, Daily360.com