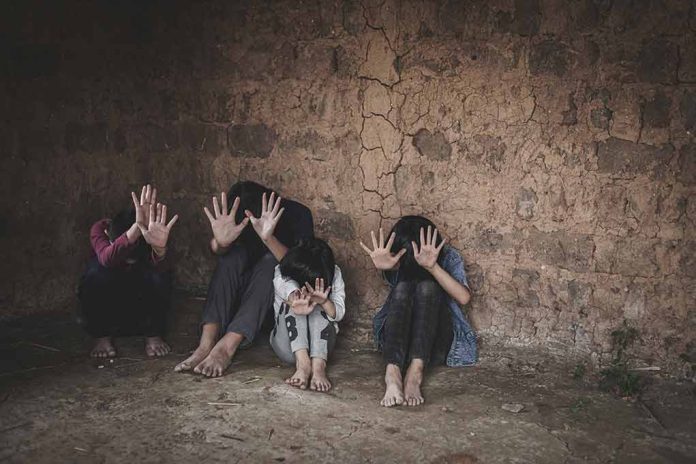 (Daily360.com) – The upstart film "Sound of Freedom" has been performing well above all expectations coming out of its celebrated July 4th movie premiere date. The movie released by small Angel Studios raked in over $40 million despite being pitted against the latest installment of the Indiana Jones franchise. 
As the film gains buzz an odd thing has happened within the mainstream media—they have begun labeling the movie as a 'QAnon conspiracy film.' Media entities such as CNN, Rolling Stone, the Washington Post, and a number of others have all pushed the thesis that the child-trafficking subject matter of the film is a far-fetched conspiracy theory. Rolling Stone's headline for the film review reads "'Sound Of Freedom' Is a Superhero Movie for Dads With Brainworms." 
The movie is based on true events lived by former Homeland Security Department agent Tim Ballard. Actor Jim Caviezel is playing Ballard in the film. The movie depicts the story of the numerous children Ballard was able to rescue from traffickers and the sex trade in which they were enslaved. Ballard has been publicizing the film over the last fewweeks but has not been interviewed by any of these critical outlets. 
The interviews he's doing now have changed some in subject matter, with interviewers now asking Ballard about QAnon. Ballard is astonished by this critique as he points out this film was written, produced and shot five to six years ago before "anyone heard the name QAnon." Ballard says even today he is unsure what QAnon is. He calls the attempted smear "bizarre." He says even the entities making this allegation never go beyond attaching "QAnon" to it and never connect the two in any meaningful way.
Ballard says he believes the media is doing this so they don't have to deal with the subject matter of children being trafficked all throughout the world and the United States. Ballard wonders if these media outlets have another agenda, he asks why they would "run interference for pedophiles and human traffickers." Ballard speculates what these people would do to help these children. He referred to one such accuser Matt Rothschild as "nobody's hero." Ballard notes that more than 100 people were rescued through his efforts and calls these smears "grotesque."
Copyright 2023, Daily360.com