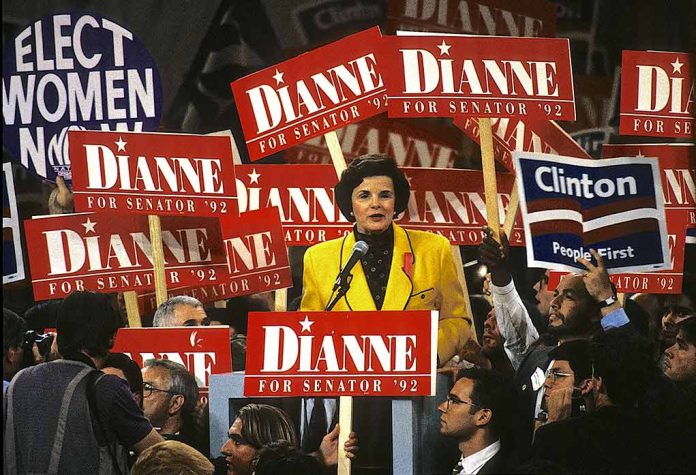 (Daily360.com) – California Democrat Senator Dianne Feinstein passed away at the age of 90 last week. Social media lit up with officials and others from both sides of the aisle praising the multi-millionaire lawmaker.
Feinstein was the oldest member of Congress, having been elected in 1992 and her tenure spanned five presidential administrations. Feinstein progressively grew more liberal and adherent to leftwing policies as her terms continued to multiply. She was a known ally of LGBT causes like the legalization of same sex marriage. She was a proponent of limiting gun rights as well as supporting green policies to limit carbon and promote renewable energies.
Feinstein's health has been rapidly declining in recent months as she would be seen being rolled around in a wheelchair by staffers as well as having them tell her how to vote while on the floor. She announced earlier in the year that 2024 would be her last year in Congress and she would be retiring at the end of her term.
Feinstein was of Jewish descent but attended Catholic schools, she was one of the first non-Catholics to attend Covenant of the Sacred Heart High School of San Francisco in 1951. Feinstein would go on to become her class president at the school. Many have praised Feinstein as the first woman to perform in many roles such as leader of San Francisco's Board of Supervisors. Feinstein served as the first woman mayor of San Francisco and as California's first female U.S. Senator. Feinstein was also the first woman to preside over an inauguration, as she did for Barrack Obama in 2009.
Current California Governor Gavin Newsom had previously announced that should he need to fill a Senate opening he'd only consider a black woman echoing Joe Biden's pledge to only nominate a black woman for a Supreme Court opening which he fulfilled by nominating Justice Ketanji Brown Jackson in 2022. Newsom followed through on that promise as well, nominating Laphonza Butler to the now open senate seat. Butler is described as a progressive organizer and member of the LGBT community. Oddly, Butler's Twitter profile listed her home as being in Maryland but after her name was released she removed the Maryland reference.
Copyright 2023, Daily360.com