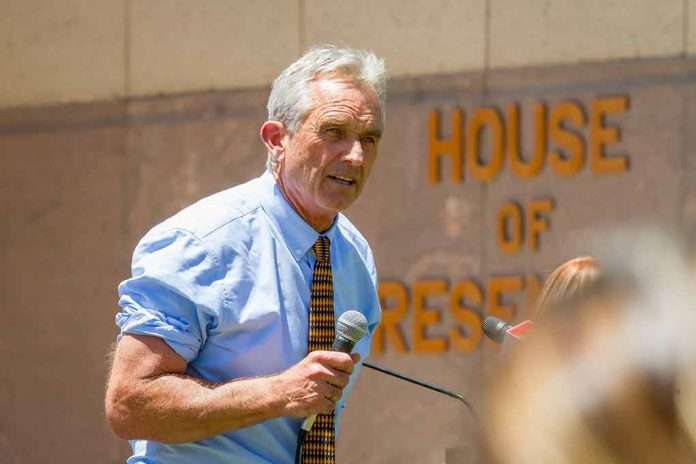 (Daily360.com) – Robert F. Kennedy Jr., who wrote the book "The Real Anthony Fauci", has not forgotten the damage he believes the former highest paid government official did during the 'pandemic.' RFK Jr. said during a recent interview with Jesse Watters on Fox News that should he become president he would instruct his Attorney General (AG) to investigate Fauci. Kennedy further said he would instruct the AG to "not hold off" if he or she should find Fauci broke the law. The presidential candidate said he believes Fauci caused "a lot of injury" especially regarding his strict refusal to let Americans seek early treatments. 
Kennedy points to the United States' abnormally high death toll relating to COVID, the nation with 4.2% of the world's population had 16% of deaths related to the virus. Kennedy says that number is directly attributable to "bad policy." He contrasts those numbers to countries which permitted and encouraged the use of pharmaceuticals like hydroxychloroquine and Ivermectin and had a mere 1/200 the death rate of the United States. Kennedy alleges American health officials were making recommendations what they knew "at the time" were "harmful." 
Kennedy also points a finger at his rival in the Democrat primary, President Joe Biden, saying his refusal to levy any punishment on China for releasing the virus is unacceptable. He further alleges the United States financed the lab through Fauci from which the virus escaped, the Wuhan Institute of Virology. Fauci has testified under oath that he did no such funding but recent documents and recent statements to Congress from Lawrence A. Tabak, the then-Principal Deputy Director of the NIH, contradict Fauci's denials with regard to funding the lab and its gain-of-function research. 
Kennedy also made news during this interview by linking the CIA to both the research at the Wuhan lab as well as to the assassination of his uncle, former President John F Kennedy. He cites former CIA members who've made confessions, but RFK Jr. notes they may have been operating in a rogue fashion if they were indeed involved. 
Copyright 2023, Daily360.com