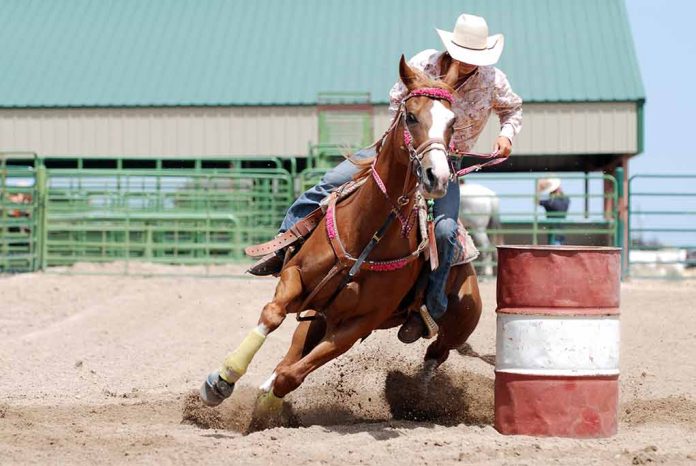 (Daily360.com) – A professional rodeo star named Terrell Vineyard was killed when he was struck by lightning last week. Vineyard was securing cattle on his ranch in Oshkosh, Nebraska during a storm when the one-in-a-million lightning strike hit him while he sat on his faithful horse "Dose," killing them both. The 27-year-old Vineyard was a lifelong rancher, farmhand and roper. Friends say he learned to rope at just six years old and died how he'd always lived, with rope in hand. After Vineyard graduated college he was a three times qualifier for the World Series of Team Roping which is held annually in Las Vegas. 
Friends and family have set up a Go Fund Me account in the name of the man they say was the "epitome of character." Vineyard's sister Tori Vineyard Scantling took to social media in remembrance of the man she called her first partner in calf wrestling, roping and her "first best friend." Friend Teri Alworth called Vineyard someone who put a "permanent stamp on everyone's heart." She wrote he was a sensitive man, who worked hard, made everyone laugh, was respectful and loved being on his horse. 
Terrell Vineyard leaves behind his wife Stacey and their three young daughters. Stacey wrote on her social media account that she was humbled by the outpouring of love she's received in her husband's memory. She thanked everyone for their help during this hard time and those who have contributed to the funds benefitting their children. So far the Go Fund Me has raised just over $14,000 of its $20,000 goal. 
Lightning strikes like this are extremely rare. The National Weather Service reported only 27 deadly lightning strikes from 2009 through 2019. Vineyard was the first person to die this way in Nebraska and only the sixth in the nation in 2023.
Copyright 2023, Daily360.com