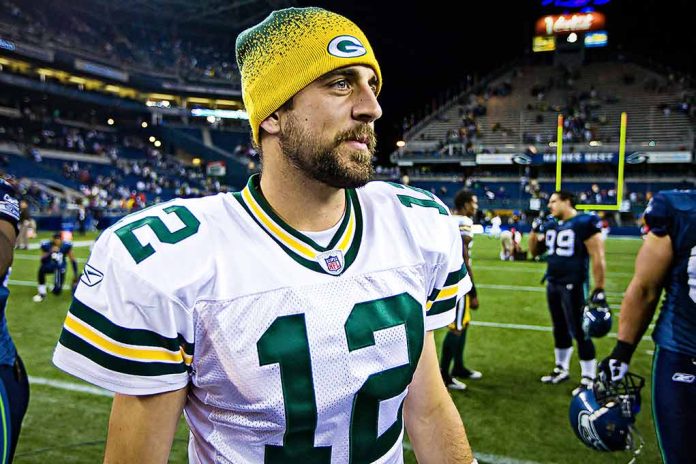 (Daily360.com) – The NFL football world has been buzzing since the April trade that sent superstar four-time MVP quarterback Aaron Rodgers from the Green Bay Packers to the New York Jets. This week Rodgers surprised many by agreeing to a new contract with the Jets that will see him take a very sizeable pay cut. 
Rodgers has been very visible at several high profile NYC events like Knicks games, Rangers games, the Tony Awards, Taylor Swift concerts and even taking teammates to Broadway shows. 
The subsequent interest around the Jets is so high they were even forced into participating in the HBO program "Hard Knocks" which takes a documentary-style approach to one team's pre-season for weekly episodes. Upon his trade many wondered if the soon to be 40-year-old quarterback would be with the Jets for just one year or perhaps follow the Tom Brady example and play several more seasons. Rodgers has a somewhat mercurial reputation making speculation especially difficult.
The new pay deal will net Rodgers $75 million guaranteed dollars over the next two years. The star QB was traded with his $110 million guaranteed dollar contract in place. The NFL is a salary cap league meaning each team can only spend a certain amount on total team salaries every year. This move will free the Jets up to spend an additional $35 million on other players as they endeavor to win their first Super Bowl championship since they did it with Joe Namath in 1969. 
Rodgers addressed his potential duration when he made remarks about the contract, he acknowledged the price the Jets paid in draft capital to acquire him, and he felt his stay should be more than "just a one-year deal."  The Jets franchise currently holds the sad distinction of having the longest playoff drought in all the major US sports leagues at 12 years. Rodgers says after 18 years in Green Bay a change could be hard but he's embracing it and looking at all the "beautiful things" new experiences bring.
Copyright 2023, Daily360.com