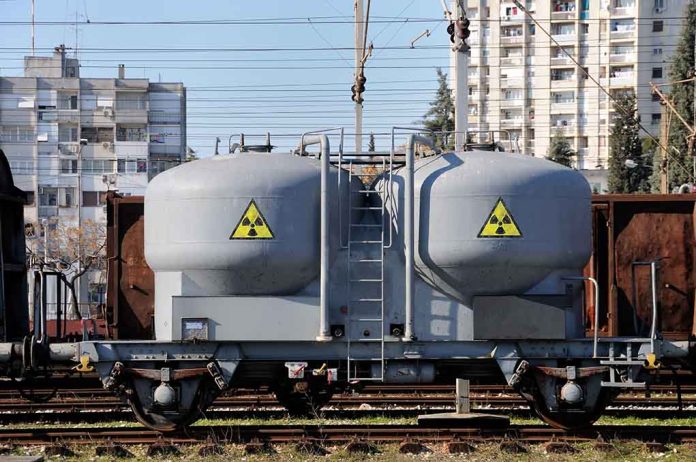 Video Shows Nuclear-Associated Equipment on the Move in Russia
(Daily360.com) – On September 21, Russian President Vladimir Putin warned that his country had various modern "means of destruction" he could use to protect his homeland. Many people took the assertion as alluding to the possible use of nuclear weapons in the fight against Ukraine. A US government official said intelligence operatives were keeping a close eye on Russia for any such movement following the veiled threat, noting the United States issued a warning of its own. If the Russian president were to unleash a nuclear attack, there would be "catastrophic consequences."
Weapons on the Move
On October 2, a clip shared on Telegram showed a freight train typically linked with Russia's Defence Ministry's nuclear arms division moving through the country. This train was accompanied by armored personnel carriers (APCs) and other vehicles, sparking fears that Putin could be in the process of escalating the war in Ukraine. The APCs have undergone possible turret upgrades and are reinforced to withstand heavy infantry attacks.
Military analyst Konrad Muzyka said the development could mean the presence of "large scale nuclear drills" on the horizon.
Just a day later, officials were unable to locate Russia's nuclear-powered submarine — the Belgorod. It had gone to the White Sea base in the Arctic in July, where it sat until just recently. The vessel houses a nuclear weapons system that could send a drone carrying a bomb to targets unknown. It also contains "Poseidon," which could launch a nuclear weapon under the water and cause a devastating tsunami, endangering the coastal areas.
Current Happenings in the War
The move follows a conscription announcement from the Russian leader in hopes of bringing in up to 300,000 more troops to fight against Ukraine. Many citizens fled the motherland to avoid the draft, but additional troops could still signal an escalation. The reports also come after Putin held referendums in several Ukrainian regions, illegally annexing the territories.
Although Ukrainian President Volodymyr Zelenskyy and US President Joe Biden said the vote and subsequent reallocation of land was a rigged, Putin now sees Luhansk, Donetsk, Kherson, and Zaporizhzhia as part of Russia.
On October 2, Ukraine reclaimed yet another region previously occupied by the Russians. This time, the gain was a region located in a recently annexed region of the country, Lyman. Ukrainian forces declared the city was clear of enemy troops. The regional governor of the Luhansk region, Serhiy Haidai, said the win was only the start of the operation to de-occupy the area.
Copyright 2022, Daily360.com