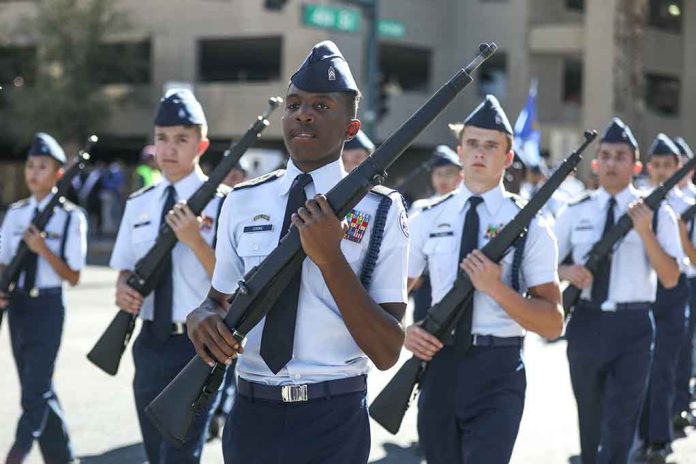 (Daily360.com) – In 1916, the passage of the National Defense Act brought with it the creation of the US Army Junior Reserve Officers' Training Corps (JROTC). The classes are part of a high school program that is supposed to prepare teens for adult life. The institutions offer JROTC to instill a sense of responsibility, discipline, accomplishment, and citizenship value. Although it started off as a recruitment tool for the military, the Pentagon of today assures that isn't the goal of the program anymore.
Still, the government is pouring money into the initiative, and the Army admits that about half of its recruits have had the opportunity to join the JROTC. Perhaps even more alarming is that schools across the country are forcing these young kids into the program by making it mandatory for their high schools and refusing to release kids from the class.
Forcing the Issue
On December 11, The New York Times posted a story about a girl from Detroit, Andreya Thomas. On her first day of classes at Pershing High School, she was going over her schedule when she noticed something on her itinerary that she didn't sign up for — JROTC. The teen revealed she was told the class was mandatory and she must attend. Thomas said she had to wear a uniform while in attendance, and the instructor often hollered at the students, presumably to mimic drill sergeants in the military. In fact, the teachers are retired personnel from the Armed Forces. Thomas was not allowed to drop out.
Upon further investigation by the NYT, the outlet found dozens of schools made JROTC participation mandatory in several states and that many children enrolled were either from low-income or non-white families.
A Hindrance to Freedom
Julio Mejia, whose child attended high school in Florida in 2019, said he wouldn't have a problem with the program if it were voluntary. He called the requirement no less than the "indoctrination" of America's youth. Others who oppose the mandate agreed and took the issue a step further. They said materials used in the program intentionally skewed the truth of American history, and recruitment focused on poorer sections of the country to steer them toward military service. Critics also believe the JROTC discourages critical thinking — a commodity essential for a country's growth. One person even called it a form of "brainwashing."
Not only could forcing teens into JROTC make them ripe for military recruiters, but the outlet said many schools are given a financial push to participate. The NYT said subsidies given by the branches are boosting instructors' salaries if the institution can get enough students enrolled. That could be one reason many schools have made the program mandatory.
Commander Nicole Schwegman from the Pentagon said she found The Times investigation concerning. The official stated the program is voluntary, just like the military, and no school should be mandating attendance.
Copyright 2022, Daily360.com