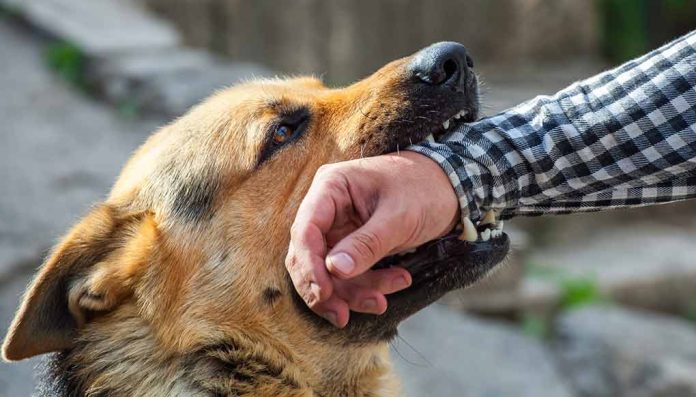 (Daily360.com) – It seems there are no members of the Biden family who are not in some kind of hot water over something these days. Aside from the mounting accusations against Hunter Biden, James Biden and Joe Biden, now even the family dog Commander is in trouble. 
Commander is a large German shepherd the Bidens brought to the White house after their former German shepherd Major had to leave due to aggressive behavior in 2021 and early 2022. According to a recent report, two-year-old commander according has bitten seven people over a four-month period. It's reported that Commander bit one Secret Service agent so severely in the arm and leg that he was sent to the hospital to care for the wounds.
Emails released after a Freedom of Information Act (FOIA) filing from the group Judicial Watch details Commander lacerating a Secret Service agent after Joe Biden released him from his leash. A January incident alleges the dog "latched on" to the back of a security technician inside Biden's Delaware home. Tom Fitton, the President of Judicial Watch, says these incidents raise questions about Joe Biden and his lackadaisical attitude toward the risk he was putting his security and other personnel in on a regular basis. Fitton also notes Biden chose to "illegally hide" the documents related to these incidents rather than protect the agents. 
 An October 2022 email shows a Secret Service agent warning colleagues that this animal was likely to bite an officer soon. The agent details the "extremely aggressive behavior" the dog exhibited. Then in November the dog lunged at a seated officer clamping down on his upper arm and as he stood the dog tore into his leg. The officer was able to fend Commander off by using a nearby steel cart. 
Another report tells of Jill Biden walking Commander on White House grounds when he bit into the leg of a uniformed Secret Service agent. That agent emailed superiors saying he was forced to fight the dog off with a chair.  After these details were made public Jill Biden's communications director, Elizabeth Alexander, said the Bidens are working on "additional leashing protocols and training" for the dog.
Copyright 2023, Daily360.com