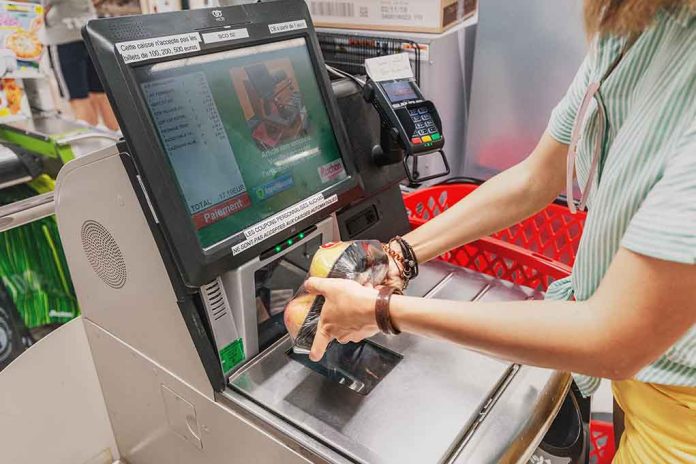 (Daily360.com) – In 2019, Walmart began using artificial intelligence (AI) to cut down on theft in self-checkout lanes at their retail stores. The new system interacts with the camera located at the exit aisles to make sure customers are scanning every item they intend to purchase. If an item isn't scanned, the computer alerts the attendant, who follows up with the customer at the counter.
The retail giant incorporated the AI measure in hopes of reducing its shrinkage loss of about $4 billion annually, but it might still need a little work. One woman allegedly used it to steal from the store on numerous occasions before an attendant finally stopped her.
The Costly Incident
In September, police arrested TeddyJo Marie Fliam at her home in Alpena County, Michigan. According to authorities, the woman had been skipping the scanning part of the self-checkout process for about six months, allegedly stealing over $1,000 worth of items from her local Walmart. An employee recently confronted Fliam at the store when the worker reportedly noticed she wasn't blipping every item's barcode over the scanner before bagging.
The suspect allegedly became very defensive about the accusation, prompting management to dig a little into her shopping history. Using surveillance footage, Walmart employees pieced together a tale of theft at the self-checkout counter. Police charged her with first-degree retail fraud.
The Wegman's Solution
Just about every store Americans walk into nowadays has the option to scan and pay for items without relying on employees. Although the method is convenient for shoppers and cuts down on wait times for those who choose employee-run lines, the method does have its problems. Wegmans, like Walmart, has experienced losses from incorporating such a convenience. The supermarket chain is addressing the issue head on to reduce further problems with the system.
Wegmans decided to disable its SCAN app customers used to total items while they shopped, which had made the checkout process even quicker. Using the app, which allowed shoppers to scan items as they added them to the cart and created a single transaction for the combined sale, the checkout process involved scanning a single barcode at the register. The retailer started using the measure during the pandemic but admits the system needs some "improvements." While the company didn't specify the total loss, it felt the app could no longer function "in its current state."
Many users were disappointed with the news, but Wegmans sent app users a $20 coupon as a consolation. The store said it would find "new digital ways" to make shopping easier in stores, although the company didn't give any further details.
What do you think about self-checkout?
Copyright 2022, Daily360.com