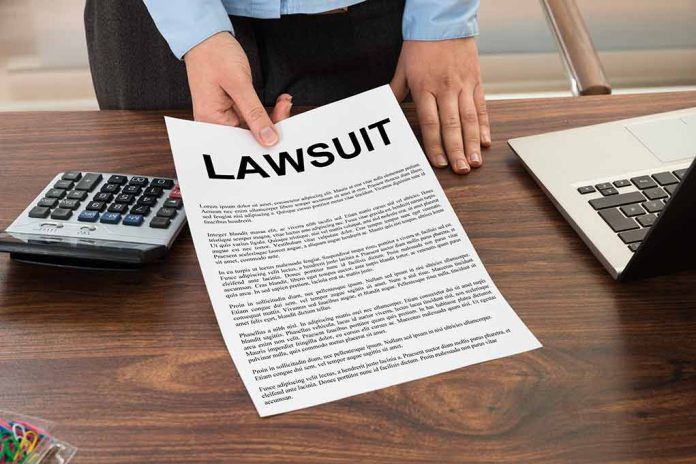 (Daily360.com) – A group of sorority sisters at the University of Wyoming have gone to court to fight their own leadership over a trans individual who was admitted. Members of the Kappa Kappa Gamma (KKG) Sorority are suing their sorority organization because they argue that they feel unsafe.
The issue centers around a 6'2" 260-pound student called Artemis Langford, who joined the House in 2022. Langford, who was born Dallin Langford, began identifying as transgender in 2017 after participating in mock micro-nations during high school. The sorority sisters accuse the now identified Artemis of bizarre behavior such as leering at them for long periods of time without speaking.
One female student says she was walking thorough the house only wearing a towel on her way to the shower when she turned to see Langford leering at her. Another woman said Langford, whose Tinder dating app profile shows they seek to meet women, had a visible erection when they caught her changing clothes. They then allegedly proceeded to ask her several questions about her 'romantic attachments' while covering their genitals.
Langford is living outside of the house but still comes around frequently, hanging out in common areas and eating dinner. Next year they are set to move into the house, which can accommodate only 50 KKG members. Once they moves in officially, they will be able to use the shared showers and other facilities.
Langford was admitted to KKG through inclusivity language recently issued by KKG leadership allowing for "individuals who identify as women." Langford said in an interview that they see joining KKG as their first trans member as "trailblazing" and "breaking the glass ceiling." One report stated the interview they gave breaks KKG's policy about speaking to the press on their behalf. However, Langford has reportedly been exempted from this policy but none of the other sorority members have received the same exemptions.
Langford has also been very active in Democratic politics. They were given praise by the Wyoming Democrats on their Twitter account, calling them their "BEST Legislative Intern." Langford has since been named a "state committeewoman" for the party. 
Copyright 2023, Daily360.com