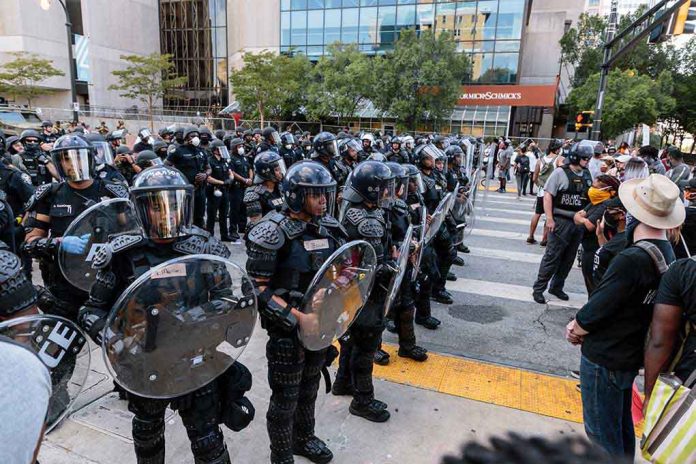 (Daily360.com) – Atlanta Georgia is the site of a new construction project which is set to become a police and public safety officers trailing facility. The immense 85-acre project which will cost around $90 million has been dubbed "Cop City" in and around the area. It has also drawn the ire of a certain group of anti-police protestors. That ire spilled over this past weekend as a masked hoard launched an assault on the site. They began setting off fireworks, throwing rocks, and causing havoc. The rioters were able to set a bulldozer ablaze with a Molotov cocktail and tear it into a shipping container located on the grounds.
This incident marks the largest and most violent group of protestors at the site. Atlanta Chief of Police Darin Schierbaum termed it a "significant escalation." While referring to the violent attack and its motives, Chief Schierbaum believes this is not about law enforcement but rather "anarchy." The rioters are attempting to galvanize behind a recent Georgia State Patrol shooting that left 26 yr old Manuel Esteban Perez Teran dead.
In total, 23 people were arrested as a result of the attack. Among them was Thomas Webb Jurgens, a lawyer for the Southern Poverty Law Center (SPLC). Jurgens' LinkedIn account shows him to be a staff attorney at the SPLC. For its part, the SPLC claims Jurgens was at the site in an official legal capacity to observe, on behalf of the National Lawyers Guild (NLG). They further claim there is no evidence of a crime having been committed by Jurgens but rather it was "heavy-handed" law enforcement tactics used against the protestors.
The SPLC has long positioned itself as a racial justice organization. They have been criticized for wielding a heavy hand when accusing citizens of being in "hate groups." In 2012, an activist fired a gun into the headquarters of the Christian nonprofit group the Family Research Council, after it was labeled a hate group by the SPLC.
Copyright 2023, Daily360.com