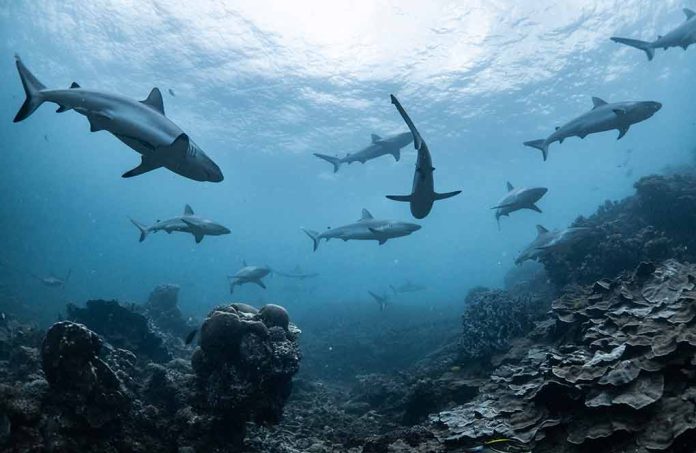 (Daily360.com) – For the first time since 1958 there has been a confirmed shark attack in New York City. A 65-year old woman was standing in the water off the shore of Rockaway Beach, Queens when a shark took a serious bite out of her leg. 
The incident took place early in the week during the early evening hours. Luckily for the woman lifeguards got to her quickly and were able to get her onto shore and apply a tourniquet to the leg prior to an ambulance arriving. Following the attack the lifeguards cleared the beachgoers from the water and helicopters patrolled the area surveying the water. They did not see any sharks, which are rare in that area. A Parks Department official was unable to recall any other incident within the area in recent history.
Authorities kept the beach closed the following day as a precaution. A Parks Department spokesman tried to allay any fears swimmers may have by noting how rare of an occurrence this was and assured them personnel will be watching. But if a shark were to be sighted, the best advice to swimmers is to leave the water as safely and quickly as possible. The victim is reported to be in stable condition at Jamaica Hospital. 
Although uncommon in the area, multiple possible shark sightings were reported in surrounding areas the following day. A sighting was called in from Jones Beach in southern Nassau County on Long Island around 9 a.m. Officials cleared the water and waited an hour per protocol to monitor the area before allowing swimmers to return. 
They repeated the process in the same area at around 11 a.m. and again at around 1p.m. after more possible sightings were reported. Yet another report came in around 1 p.m. from Breezy Point, Queens, located a few miles southwest of Jones Beach. Officials say the Breezy Point sighting was about a quarter mile from the shore which was a "significant distance" from beachgoers. They say any shark in that area was likely lured by bait fish in the vicinity.   
Copyright 2023, Daily360.com