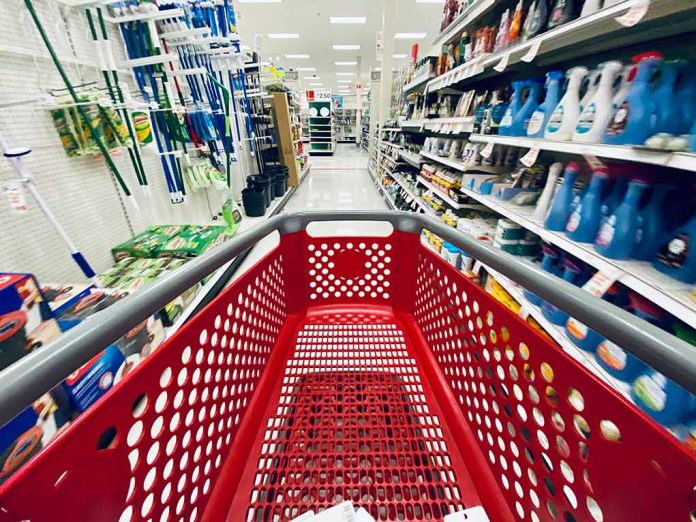 (Daily360.com) – After the large amount of lost business Big Light suffered for stepping into social politics, it would seem practical for companies to stay more neutral in this divided era. The executives at Target would not be of that mindset. The company has gone all-in on the left's promotion of LGBT imagery and messaging to children. Not only have they launched a full "pride" collection, they hired a Satanist designer to do it. The London-based designer who goes by the name Abprallen often combines Satanic imagery and LGBT messaging, for example he can be seen on his social media wearing a t-shirt featuring a cartoonish satanic goat head with writing that reads "Satan respects pronouns." Another design available on his web site features a skeleton sporting rainbow colors with the words "Trans Witches for Abortion." The description for the Satan t-shirt tells of the designer's feeling that the Satanic Temple and the Church of Satanare more accepting of LGBT people. 
The collection available in Target stores is rather large and typically located near the entrance. Some items available are "tuck friendly" crotch designed bathing suits, "gender fluid" mugs, baby onesies with LGBT logos, onesies reading "bien proud," kids t-shirts reading "queer, queer, queer", LGBT stationary, pronoun books, "Bye, Bye Binary" baby book, rainbow themed pet treats and many articles of clothing for adults as well.
After video of these items started to spread online Target held an emergency meeting to come up with strategies to avoid the 'Bud Light treatment'. They proposed moving the section further back in the store and decrease its size, and feature less clothing from the line on mannequins and tone down signage. A day after this meeting Target said they will be removing some items, citing "volatile circumstances" surrounding items "at the center" of the controversy. California Governor Gavin Newsom took to Twitter to rebuke Target, he ripped them for "selling out" referring to this as a "systematic attack on the gay community" however he didn't mention the trans components or any specific items he'd not want to be pulled from stores.
Copyright 2023, Daily360.com