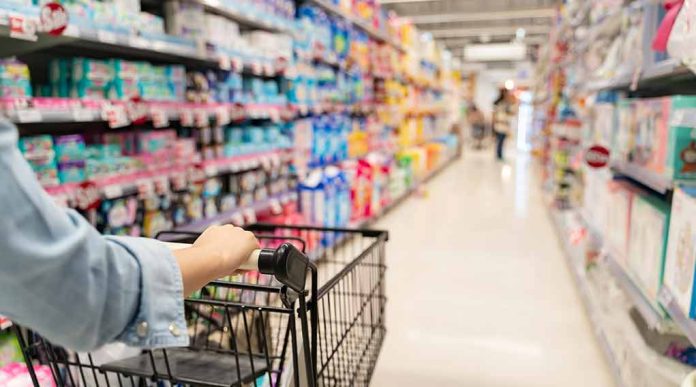 (Daily360.com) – Cell phone cameras in Westchester County, New York caught one of the wildest 'people of Walmart' moments yet. The video shows a large-framed African-American woman sitting on a motorized shopping scooter arguing with a uniformed New York state trooper. It's not known why the trooper was called and what the initial reason may have been for the confrontation.
The woman begins to shout at the trooper saying "drag me the f*ck out" repeatedly. The trooper then turns his head to speak with someone off camera, likely the manager of the store since he asked "what is the house policy."
Before he received an answer, things escalated to a physical level. The woman began to swivel in her seat, grabbing at whatever she could reach; she hurled sodas, chips and other food items at the trooper. The woman then gets up off the scooter and begins to throw products all over the floor while cursing and shouting "drag me out of here" repeatedly. Rather than let her continue to be destructive, the trooper tries to physically restrain the large woman. She responds by slapping him in the face and head with such force that his glasses fly off his face and through the air.
The trooper is eventually able to take her to the ground as she knocks over an entire display stand full of candy. As the trooper struggles to handcuff the woman a large crowd of shoppers gather around and form a circle, most are recording the incident with their cell phones. A Walmart employee asks them to stop recording but they ignore the request. The woman resists the trooper, kicks at him, continues to curse and calls him "white trash" several times.
Customers laugh and comment as the trooper labored to handcuff the writhing woman. At this point in the video she began to scream "Walmart is racist" for the next several minutes while resisting the arrest. Finally, the trooper was able to turn her over onto her belly and handcuff her. Once cuffed, a second video shows the woman asking the trooper to take her to the hospital. After the hospital request she asks to go outside and wants to know where her items are, she says, "I can't go without the stuff, I paid for it."
Copyright 2023, Daily360.com