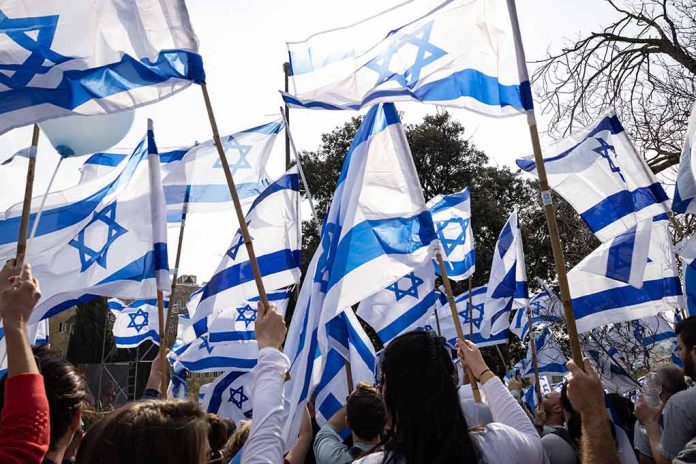 (Daily360.com) – A pro-Israel rally held in Washington D.C. drew criticism and insults from a group called the Democratic Socialists of America (DSA). They referred to the rally as a "pro genocide march," labeling all who attended as being on the wrong side of the Israeli and Hamas conflict. The rally was a response to the numerous pro-Palestine rallies that have been occurring throughout the West; an especially large one took place in D.C. earlier this month.
The DSA called this rally a "sad attempt" to match the pro-Palestine rallies; they said the energy of the "millions" on the other side of the issues dwarfs the pro-Israeli side. The DSA wrote that their supporters have phone-banked, marched, protested, and have engaged more people toward a ceasefire than the pro-Israel side has for their war effort.
The DSA further stated that they "have the people on our side." Along with their words, they posted an image to their Twitter account parodying the "Captain Planet" cartoon in which five characters merge to bring forth the Captain Planet character. In their parody, the five characters represent "Christian nationalists," "Hitler apologist," "Israeli president," "AIPAC lobbyists," and "corporate Democrats" and together they made up "March for Israel in D.C."
The characters in their parody are meant to represent the different speakers who presented at the rally. For example, Pastor John Hagee was dubbed the "Hitler apologist" for his remarks at the rally. Hagee said there is "no middle ground" when choosing whether to support the Pro-Israel side or the pro-Palestine side. The DSA wrote they are "appalled and disgusted" with the speakers at the event, which they called a "far right" extremist event.
Bruce Blakeman, Nassau County NY executive, called the DSA a "vile, disgraceful group" that promotes anti-Semitism. Blakeman, who is himself Jewish, said the DSA supports the "evils of terrorist organizations" like Hamas. Democrat State Assemblyman Jeffrey Dinowitz of the Bronx echoed Blakeman's sentiments, slamming the DSA as hateful organization.
Copyright 2023, Daily360.com