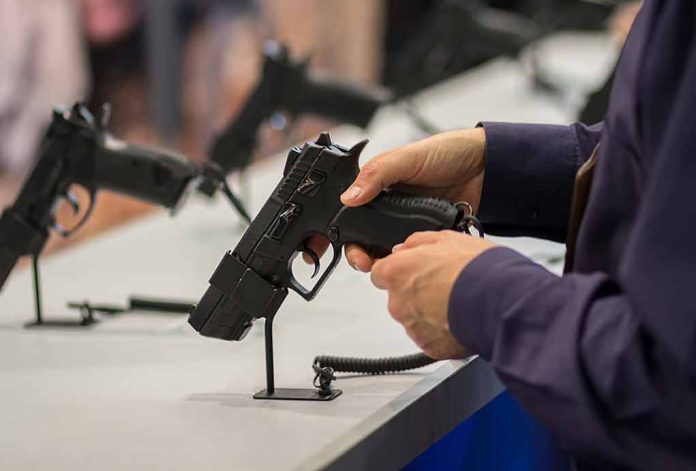 (Daily360.com) – Before making a speech in South Carolina recently, Donald Trump visited the Palmetto State Armory and looked over all the guns and similar items they had for sale. Trump saw something that led to viral videos, conspiracy theories, cheering and complaining across the poltical spectrum. Trump was shown a black and gold Glock 9mm piston that read "Trump 45" on the slide and the handle featured American flag stars and stripes with and oval with the 45th president's likeness. He posed for photos with the pistol and the man who had it in his display. Trump said to the man "I gotta buy one" while pointing at the custom firearm. Almost immediately, social media lit up with comments, critiques and compliments.
Trump supporters raved about the uniqueness of the Glock while Trump detractors brought up all the felony charges dogging Trump. Some were posting that it would be illegal for him to buy a weapon considering his legal circumstances, while others said he could still purchase the weapon because he has not been convicted of any crime. It is not known if Trump actually did purchase the Glock or if he was just joking with the people at the armory. Ron DeSantis-supporting conservatives mocked the photo and attempted to make jokes about Trump having a gun. Trump later made his speech in front of South Carolina supporters.
It should be noted that for the second time at a live event in the state, Trump's crowd booed the mention of Trump supporter Senator Lindsey Graham (R-SC) and the former president had to quiet them and reaffirm his support for Graham. He joked that Lindsey Graham "helps him on the left" which he opined he shouldn't need but sometimes does. Trump also reiterated his desire to launch the largest deportation operation in American history should he take the White House back in 2024. He said there is little other choice as the country is overrun and has massive financial debt.
Copyright 2023, Daily360.com