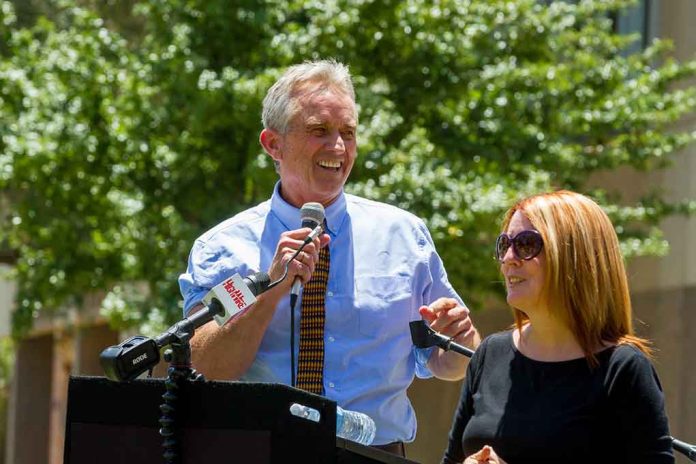 (Daily360.com) – Robert F. Kennedy Jr. followed in his father's footsteps and announced he too would be running for President of the United States as a Democrat. However, unlike his famous father, Jr. does not have the support of the Kennedy clan. Kennedy Jr. raised his profile greatly in the last couple of years by being skeptical of the pandemic vaccines. He authored a book titled "The Real Anthony Fauci: Bill Gates, Big Pharma, and the Global War on Democracy and Public Health" a well-researched takedown of an icon of the left, Dr. Fauci. This stance and work have drawn the ire of many on the left including his family.
Laurence Leamer, a Kennedy family biographer described the attitude of most of his family as "disgusted." He says they "still care about him" but are embarrassed about his anti-vaccine stance. Kennedy Jr. officially filed the paperwork to run last week. His formal announcement is expected to come later this month in Boston. Kennedy Jr. is a licensed environmental lawyer and is chief legal counsel for Children's Health Defense. Kennedy Jr. is no stranger to controversy as he's maintained for years that his father's assassin Sirhan Sirhan did not RFK and was not even a participant in the murder. Kennedy Jr. even advocated for the parole of Sirhan after meeting him.
His family has publicly shamed him over his vaccine position as has his third and current wife actress Cheryl Hines, who is a proponent of the vaccine. She took particular offense with Kennedy Jr.'s assertion that people who oppose the vaccine are akin to Anne Frank in their persecution level. Kennedy Jr. tweeted that Hines had approved his presidential run which he described as his "biggest hurdle."
The media is likely to smear Kennedy Jr. over a 2013 story in which he is said to have kept a "explicit diary" detailing a multitude of affairs he had while married to his now-deceased second wife. Many of his siblings and cousins have held office in some capacity over the decades.
Copyright 2023, Daily360.com