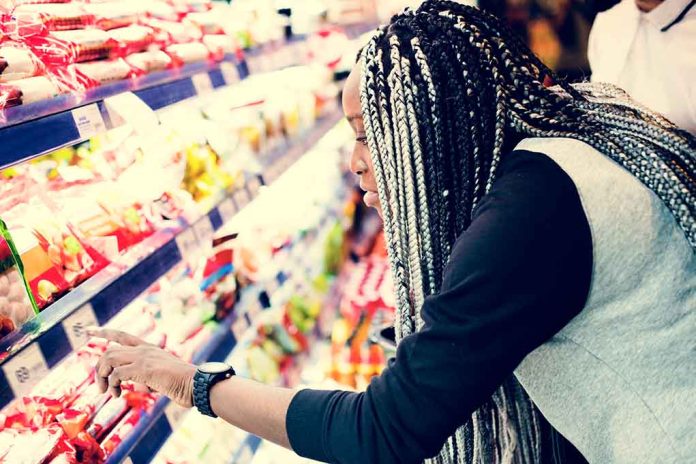 (Daily360.com) – An incident that took place at a Target store in Blue Ash, Ohio has been making some headlines. Security video captured a store security guard punching a female customer during an exchange that began at the checkout register. The woman had over $1,000 worth of groceries in her cart but rather than pay for them she asked the store to cover the expense in the name of "reparations." According to the police report the woman named Karen Ivey asked for reparations several times and then demanded to speak to the manager when the cashier denied her request.
Once the manager arrived, Ivey moved toward her "aggressively." Witnesses describe Ivey as berating the manager, calling her "privileged" and demanding the groceries as reparations. It was at this point when security officer Zach Cotter tried to intervene, he asked Ivey to calm herself and leave the store. Instead of complying, Ivey turned her aggressive behavior toward Cotter and followed him into his office as he walked away from the confrontation. As he began to close the door Ivey pushed her way into the office. This was when Cotton threw a punch, which was captured on video, striking Ivey in the face and causing Ivey to fall to the floor. When the police arrived and reviewed the video they determined Ivey was the aggressor and arrested her.
Reparations have been a hot topic of late with the city of San Francisco convening a panel to review the issue, after which they determined each black resident meeting certain criteria should receive $5 million. The ever-widening criteria would include descendants of slaves or other people 'of color' who were marginalized in some way.
Ivey was captured on police body cam footage saying she wanted a "larger conversation" about money, provisions, and how neither has benefited her "community." She was sentenced to a day in jail and a $110 fine. She described the incident as her "Rosa Parks moment."
Copyright 2023, Daily360.com