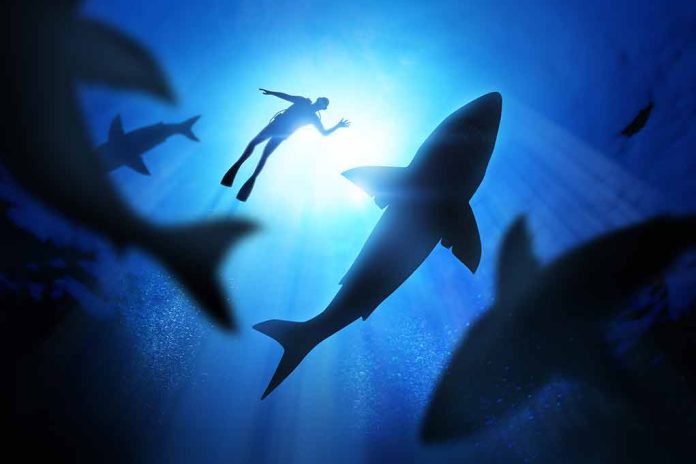 (Daily360.com) – Three men were rescued at sea off the coast of the Coral Sea in Cairns, Australia. They became stranded on their catamaran vessel after it was sieged by sharks. 
The Australian Maritime Safety Authority (Amsa) coordinated to rescue of the boaters on Wednesday. The crew of the vessel embarked on a journey called Russian Ocean Way and were attempting an expedition around the world. They've been documenting the trip online for followers on social media. The craft became disabled when the sharks damaged a cylinder on the rear of the inflatable catamaran pontoons. This led the craft to become "completely submerged" according to an Instagram post by the crew. 
Things went from bad to worse as the sharks returned the next day to attack the disabled vessel again. The sharks then damaged the other side of the vessel's inflatable pontoon. It was after this attack that the vessel,named Tion, began to sink and the crew sent an SOS requesting immediate help. Amsa located the craft which was at that time headed from Vanuatu to Cairns, Australia. Amsa confirmed the series of shark attacks. Amsa was assisted in the rescue by a boat flying a Panama flag, and the two Russian and one French Tion boaters were rescued. 
Shark attacks have seemed to increase this year with reports coming from all over the world. Most recently two swimmers in Florida were injured during separate incidents in Volusia County. The area located just south of Daytona Beach saw a 37-year-old woman and a 30-year-old male surfer bitten by sharks. The woman was bitten in the foot while the man was bitten on the hand, neither were considered life threatening. Officials said they will not try and hunt the animals down as they consider these incidents to be mistakes by the sharks rather than attacks. They note that sharks sometimes mistake surfers and people engaging in other water activities for seals or similar prey.   
Copyright 2023, Daily360.com