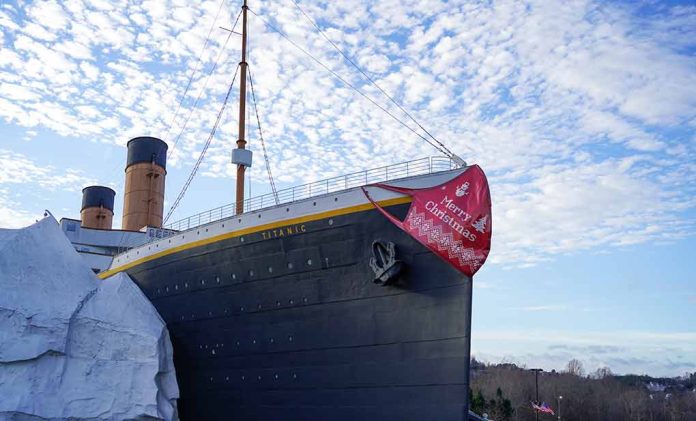 (Daily360.com) – A small submarine which went to explore the sunken wreckage of the legendary Titanic has gone missing. The submarine began its dive Sunday morning on its quest to view the doomed ocean liner which hit an iceberg and sunk in 1912. 
The ship from which the submarine deployed reported losing contact after about 1 hour and 45 minutes of the dive. The company which owns the submarine, OceanGate Expeditions, say their top priority is the people inside the sub and their families. The United States Coast Guard confirmed it deployed a C-130 aircraft to cover the sea roughly 900 miles off the coast of Cape Cod. The C-130 air reconnaissance is being supported by a P8 Poseidon aircraft which is equipped with specific underwater detection equipment. 
It is believed the submersible can sustain life for roughly 96 hours in the event of an emergency. Ships in the area were issues a directive to be on the lookout for the white hull of the 21-foot vessel. 
Among the missing are British Businessman of Action Aviation, Hamish Harding along with a Pakistani businessman and his son, as well as a famed French diver and the OceanGate CEO. Attorney David Concannon was slated to be aboard the vessel but pulled out at the last minute and has been highly critical of the government. He says they've been slow to respond and inquires he made were met with 'out of office replies' from administration personnel who were not at work due to the Juneteenth holiday. 
The small sub could be anywhere in the area and some theorize it could be trapped within Titanic's wreckage. Should it be found around Titanic or deeper it's unlikely to be retrievable as no vessel has ever been raised from that depth. CBS News correspondent David Pogue offered hope by recounting how he was also lost for some hours in a small sub exploring Titanic before arriving back safely.
Copyright 2023, Daily360.com