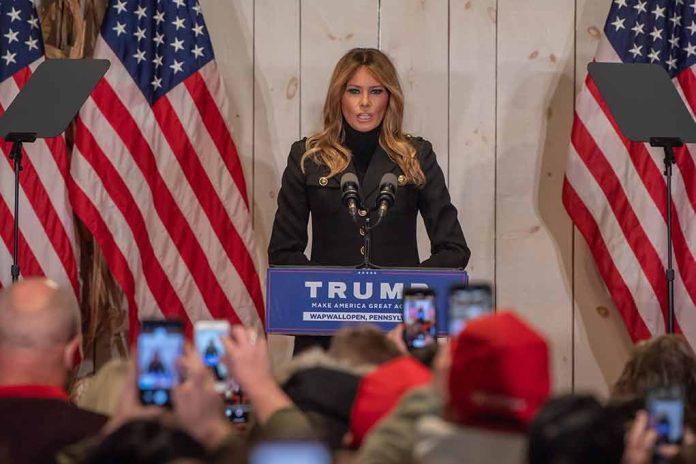 (Daily360.com) – Melania Trump has been leading a relatively low-key life since her turn as first lady of the United States ended. A frequent target of media attacks and mockery from the talk show "The View", Melania has been noticeably quiet. 
Observers speculated that should Donald Trump run again, his wife might not approve or support the effort. Donald Trump announced last November that he would seek the Republican nomination for the presidency in 2024. Then in early May Melania came out and said she fully supports her husband and was looking forward to his "restoring hope for the future", and that he was the person to lead America back to prosperity. 
While being interviewed on the radio this week by long-time friend and ally Roger Stone, Trump was asked how Melania feels about the indictment handed down by special counsel Jack Smith. Trump responded by saying "she's hurt" and noted that his whole family is hurt. No former president has ever faced charges or been under federal indictment before, Trump said. 
The charges stem from a document dispute with the national archivist which has now resulted in 37 felony counts. After appearing in court earlier this week Trump made a speech at his Bedminster, New Jersey country club to supporters where he recounted what has led to this point. He reiterated the hardship the situation has caused his family. Melania has not spoken publically about these charges but Trump told Stone she is "terrific" and that her attitude amazes him.  
Despite the legal battles Trump is currently waging and new ones that are just over the horizon, he leads the Republican field for the 2024 nomination by a wide margin. He was greeted by many supporters cheering for him near the Miami courthouse regarding the Smith indictments. After leaving court Trump stopped by a local Cuban restaurant where the patrons cheered him, took photos, sung him happy birthday and prayed over him. Trump then paid the bill for everyone there. 
Copyright 2023, Daily360.com