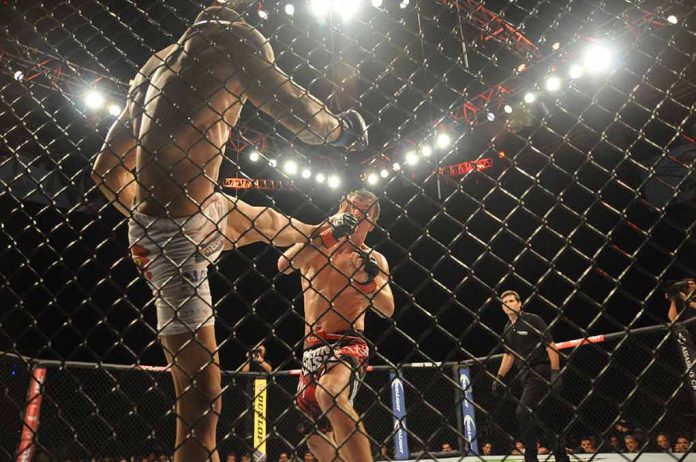 (Daily360.com) – Donald Trump flexed his star power in Las Vegas at the Ultimate Fighting Championship (UFC) 290. The sold-out championship event was held at the T-Mobile arena just off the Vegas strip. The scene of President Trump entering the arena was like something out of an action movie. As the Kid Rock song "American Badass" boomed, Trump entered through a tunnel into the arena flanked by UFC CEO Dana White and his secret service detail. Fans howled and cheered while several reached their hands out to Trump as he shook and greeted them while he passed by.  
As Trump and his long-time friend White made their way to the octagon where the fighters battle to sit at the table closest to it, Trump stopped to wave to the crowd further. The noise and cheers were impressively loud and long-lasting. The former president was also greeted, shook hands, and held brief conversations with celebrities on hand including podcast star and UFC announcer Joe Rogan, Oscar Winner Mel Gibson, celebrity chef Guy Fieri, and actor Mark Wahlberg. Trump eventually settled in to watch the matches, after one of which the winning fighter South African Dricus Du Plessis scaled the octagon wall to shake Trump's hand and exchange pleasantries.   
Social media lit up with many videos from all different angles capturing the energy and enthusiasm. Some users created videos comparing Trump's day to current president Joe Biden's day. Biden was on a Delaware beach and no-one around seemed to know or be interested in his presence. Of course left wing users slammed the event and the former president, White Stripes singer Jack White posted that anyone who "normalizes" a "disgusting fascist, racist… disgusting piece of sh**" is terrible. He went on to name Gibson, Wahlberg, Fieri and Rogan as "also disgusting" for speaking with Trump. This post drew praise from author Stephen King and other left-wing celebrities.  
Copyright 2023, Daily360.com