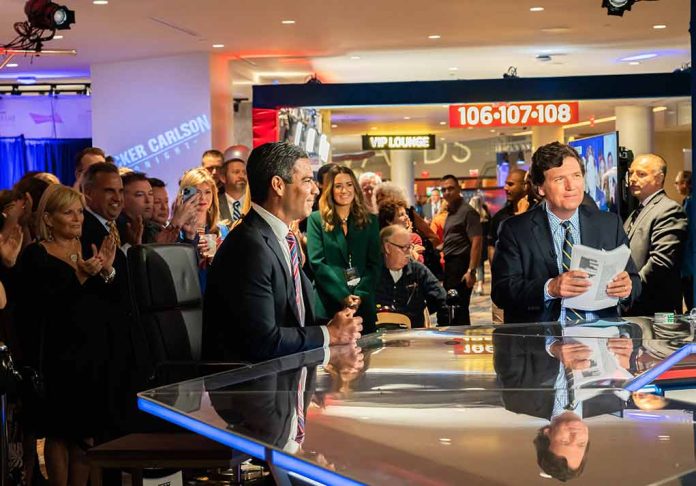 (Daily360.com) – Tucker Carlson's battle with former employer Fox News is heating up again. After the sudden dismissal of Carlson many wondered what this would mean for the network and its most popular host.

There was wide speculation that should Carlson want to collect the money still owed to him by Fox, he would have to abide by the remaining length of the contract and sit on the sidelines until it ran out before he could return to the airwaves. This non-compete clause was thought to be the main issue being fought over by his lawyers and the Fox News lawyers. Carlson laid low for a bit despite constant video "leaks" which were made to discredit the journalist, though they may have had the opposite effect.

After some time Carlson put a video up on his personal Twitter feed announcing he would be producing original content on that platform. He released two 15-minute monologue style videos which garnered tens of millions of views.
The view count on the Twitter videos far exceeded the typical number his Fox News show generated. Fox responded by sending Carlson a cease-and-desist letter claiming these videos violate his contractual no-compete clause. A lawyer for Carlson, Harmeet Dhillon, took to her Twitter account in response to the letter. She wrote a multi-tweet-thread which opened by stating that her client will "not be silenced." 
Dhillon herself is a frequent guest throughout the Fox News lineup but said she will no longer appear on the news outlet. She wrote that Fox News is "not a place" she wants to appear as long as they are trying to silence Tucker Carlson. She also urged other people who believe in free speech and free information flow to likewise consider not appearing on Fox News as they "caved into pressure" to banish Carlson. She wrote Fox News is now a "censored version of the news."  
Copyright 2023, Daily360.com