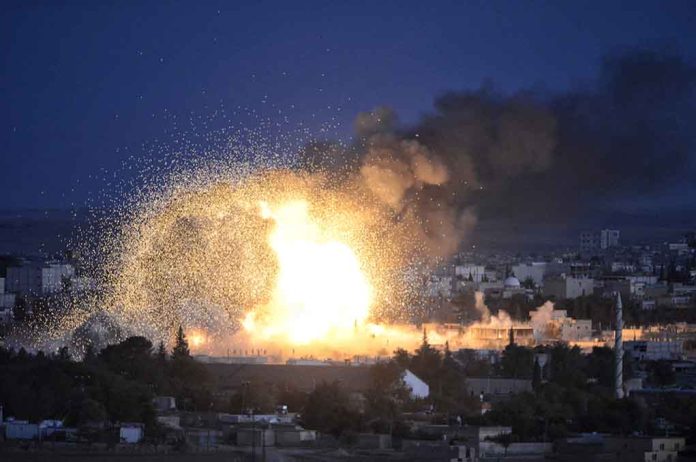 (Daily360.com) – On February 24, 2022, Russian troops invaded Ukraine. Defensive forces, under the leadership of Ukrainian President Volodymyr Zelenskyy, have been fighting back ever since.
What Russian President Vladimir Putin once assumed would be a swift acquisition turned out to be more than he originally bargained for. The Ukrainian military, the country's people, and nations around the world continue to resist Russia's advancement. While it's been difficult to nail down the exact casualties of the war, at least on Putin's side, Ukraine's most recent strike led to a rare confirmation.
Zelenskyy's Troops Strike
On December 31, the Russian president delivered an address to the people of his country. According to the Daily Mail, Putin claimed he was fighting Nazis in Ukraine while accusing the West of using the sovereign country to destroy the motherland. The foreign leader reportedly looked weak as he broadcasted his message, trying to relay the narrative that the invasion is still necessary to protect his people. While he was delivering his speech, Ukrainian troops struck hard, reportedly hitting a building that contained scores of Russian military members.
The Russian defense ministry admitted the attack took out 63 soldiers in Makiivka, where offensive forces were using a vocational college building as a temporary barracks. The source reported the housing facility was hit by multiple rockets, causing extensive damage and many deaths. Apparently, Ukrainian troops fired four rockets using US-made HIMARS launchers, but only two reached their destination. Russian officials claim to have shot down the remaining two missiles.
Differing Accounts and Reactions
Zelenskyy's troops have a different account of the events. They claim the death toll exceeded 63, putting the number around 400. However, Russia said that the assessment is overinflated. A former commander and supporter of Moscow initially agreed with Kyiv, putting the number of dead soldiers in the hundreds, but he later adjusted his statement. One Russian military blogger indicated whoever housed the Russian troops in the building, which reportedly stored ammunition and was not camouflaged, was a fool.
Reuters reported that Russian officials and legislators were angry about the casualty count, stating commanders on the ground ignored signals that troops could be in danger. They called for those responsible for the failure to be punished. The missile strike was apparently a reaction to a recent barrage of drone strikes by Russia on the Ukrainian capital of Kyiv and other cities within the nation. Yuriy Ihnat, a Ukrainian Air Force spokesperson, revealed on local TV that their forces have shot down 84 drones just days into the new year.
As for the facility housing the Russian soldiers, it was reportedly reduced to rubble during the retaliatory strikes.
Copyright 2023, Daily360.com