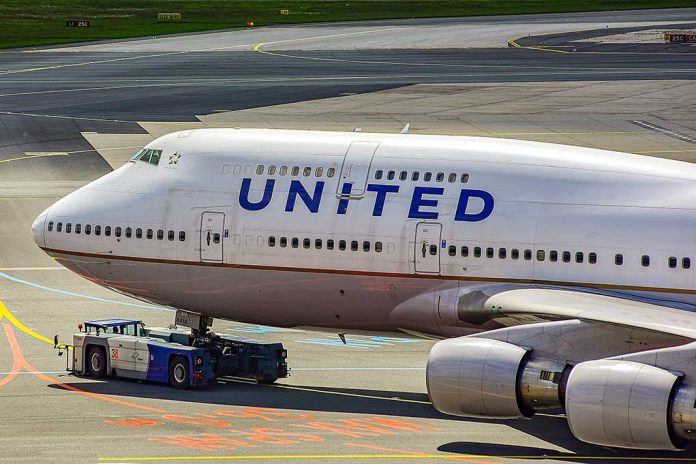 (Daily360.com) – On December 18, 2022, United Airlines Flight 1722 took off from Kahului Airport in Maui in mid-afternoon amid stormy weather. The Boeing 777-200 was bound for San Francisco's international airport with an unreported number of passengers on board. Shortly after take-off, the plane took a nosedive toward the Pacific Ocean at about 8,600 feet per minute exerting nearly 2.7 times the force of gravity on the aircraft and passengers.
United Airlines Flight Plunged To 775 Feet Above Ocean Soon After Takeoff, Data Reveals https://t.co/XZanRpSyXg

— US Burning (@UsBurning) February 13, 2023
On February 12, The Air Current reported that the terrifying incident lasted about 45 seconds, ending with the Boeing less than 775 feet from the ocean's surface. Luckily, the pilot quickly recovered, bringing the plane to a standard altitude for commercial flights — 33,000 feet. The rest of the plane ride seemed to go without a hitch, and the crew landed the aircraft just over four hours later at its expected destination in California.
Initially, the National Transportation Safety Board (NTSB) declined to investigate the incident. However, on February 14, the board announced its decision to initiate a probe into the flight.
The NTSB has opened an investigation into the Dec. 18 incident in which a United Airlines 777 lost altitude before recovering shortly after departing Kahului, Hawaii, on a flight enroute to San Francisco. A preliminary report is expected in 2-3 weeks.

— NTSB Newsroom (@NTSB_Newsroom) February 14, 2023
According to The Air Current, there is no evidence that the pilot notified Air Traffic Control at the time of the incident, although such an extreme incident typically prompts a check-in to make sure everything is okay onboard. There has been no public report as to what caused the flight to descend abruptly or any injuries it may have caused.
Another incident happened that same day that did end with injured passengers, only this flight was arriving at the Daniel K. Inouye International Airport in Honolulu. The New York Times reported turbulence was to blame for the incident that hurt about 36 people — almost a dozen of them seriously. According to Chief Operating Officer for Hawaii Airlines, Jon Snook, the turbulence was likely caused by the weather conditions near the Hawaiian islands that day.
The Federal Aviation Administration (FAA) lists turbulence as normal with the potential of becoming dangerous. As such, the entity recommends flying with their seatbelts on during take-off, landing, and whenever the seatbelt light is on.
Copyright 2023, Daily360.com