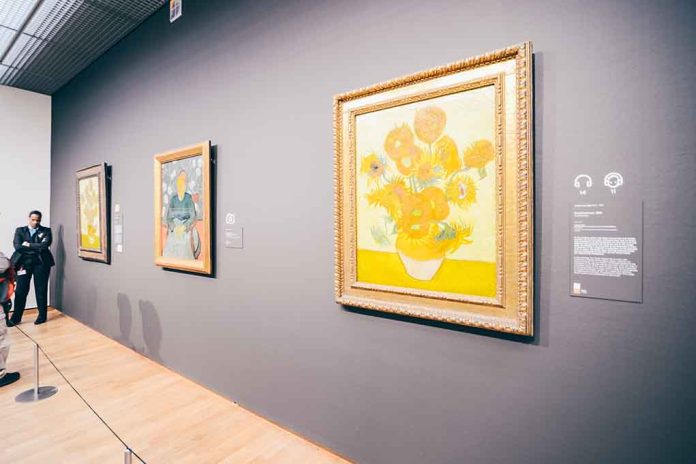 Protestors Toss Soup on Iconic Van Gogh Painting
(Daily360.com) – Artist Vincent van Gogh lived in the 1800s, creating iconic pieces that reflected both expressionism and post-impressionism styles. Today, his works are worth millions, and some might say they're priceless. One of van Gogh's more popular sunflower paintings sold for $40 million in 1987 and is on display at London's National Gallery.
On October 14, fossil fuel protestors Anna Holland and Phoebe Plummer threw the contents of two cans of tomato soup at the iconic "Sunflowers" painting hanging in the gallery. The pair then glued themselves to the wall in an attempt to use "civil resistance" to stop the United Kingdom from continuing to push fossil fuels.
Activists with @JustStop_Oil have thrown tomato soup on Van Gogh's Sunflowers at the national Gallery and glued themselves to the wall. pic.twitter.com/M8YP1LPTOU

— Damien Gayle (@damiengayle) October 14, 2022
Holland and Plummer are part of Just Stop Oil, a local climate activist group that is against the use of oil and gas. The members believe their efforts to stop licensing and production will help secure a livable future.
The vandals were promptly unglued and arrested following their actions. Luckily, the painting, now worth $85 million, was unharmed. The only damage was to the frame, but it was only minor.
Plummer said the protestors used the cold soup to make a statement that the people of Britain aren't going to be able to afford energy costs this winter — even to heat a can of soup. The young woman then ranted about climate change and people starving in Somalia. The protesters apparently chose the van Gogh because of its value. But what did the painting have to do with the movement, and why did it have to suffer?
Copyright 2022, Daily360.com