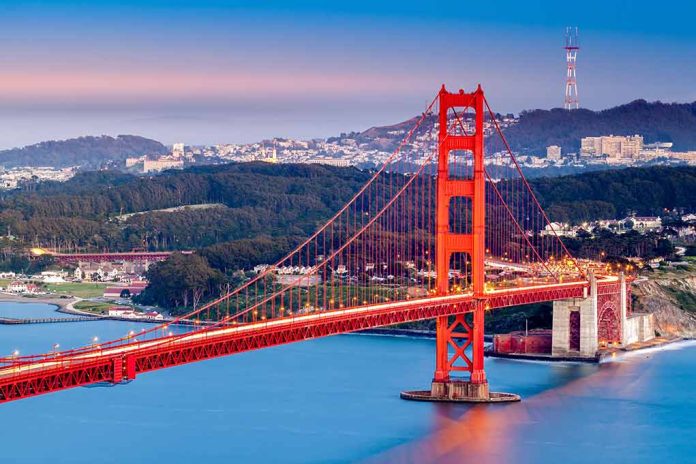 (Daily360.com) – As San Francisco descends into a city perhaps once only fictionalized on an old dystopian sci-fi movie, the citizens there are left mostly hopeless. A man named Don Carmignani was once served the city of San Francisco for many years as fire commissioner. Recently, Don was outside his parent's home in the Marina District when a man named Garrett Doty ferociously attacked him with a crowbar. The attack lasted several minutes and was captured by surveillance cameras and bystanders.
The retired commissioner is seen trying to fend off his attacker who strikes with blow after blow, connecting with Carmignani's arms, head and torso. Carmignani described his condition after the assault as having left him with agonizing pain, short term memory loss and lingering neurological damage. His jaw was so badly injured he said it needed "fiver layers of stitches" along with an hour's long plastic surgery procedure requiring a metal plate to reconstitute his jaw. He described the aftermath of the surgery as "feeling like (his mouth has) been ground up by a meat slicer." He describes the pain as so intense throughout his head and arm that oxycontin barely masks it and he is lucky to sleep even two hours a night.
If the injury wasn't enough Carmignani received the injury earlier this week when he found out his attacker Doty had all charges against him dropped. Not only that, prosecutors claim it was Doty who while yelling "Die, mother*cker" throughout the assault was the one acting in self-defense as Carmignani had pepper sprayed him early in the confrontation. Carmignani said "my city is in chaos" and it "is burning."
The life-long city civil servant turned attack survivor said he does not blame the police and prosecutors as much as he does the politicians who 'tied their hands.' He says all the decent taxpaying citizens are leaving the city as life has become too violent there. Carmignani was also warned that he may be charged for deploying the pepper spray. He brought the spray because his elderly mother had warned him about Doty and his fellow drug users were smoking crack openly in their driveway on most days.
Copyright 2023, Daily360.com