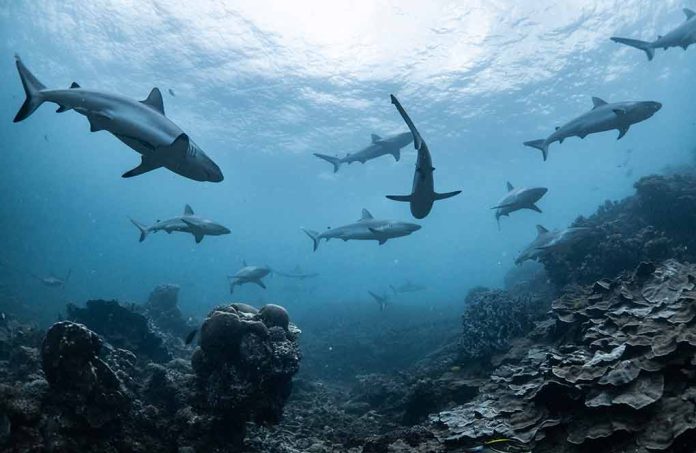 (Daily360.com) – Dramatic viral video footage from Florida looks more like a horror movie than a fun summer day at the beach. Swimmers rushed from the water onto shore as large sharks swam into the shallow water and thrashed about. People are seen shouting from the shore to other beachgoers floating on inflatable rafts. Like something out of the film "Jaws", they yelled "shark" repeatedly trying to alert the floaters to the large thrashing shark just feet away from them. This incident took place around 2pm last Sunday afternoon; the shark's dorsal fin can be seen above the water as it speedily swims around the area. 
July 4th weekend featured a multitude of shark sightings around the nation. Some members of the shark species made famous in "Jaws," Great White sharks were spotted of the coast near Cape Cod, Massachusetts. Additional reports of shark sightings came from Chatham, Nantucket and Orleans. Cape Cod has seen an increase in sighting likely due to the increasing seal population in the area. Four swimmers off the coast of Long Island, New York also reported being bitten by sharks over the weekend. Shark experts warn that they may show up anywhere along the coast. 
According to specialists, most shark activity takes place before dawn and after dusk. Experts say these are their desired hunting times as they have an advantage over their prey. They say swimmers should not swim if they are bleeding in any way and even women who may be menstruating should be extra cautious as not to attract a shark. They also advise against neon bathing suits or jewelry that a shark may perceive as fish scales. Staying within the crowd and not straying too far out to sea alone is advisable and remember, being bitten by a shark is still less of a danger at the beach than rip currents or even a lightning strike. 
Copyright 2023, Daily360.com