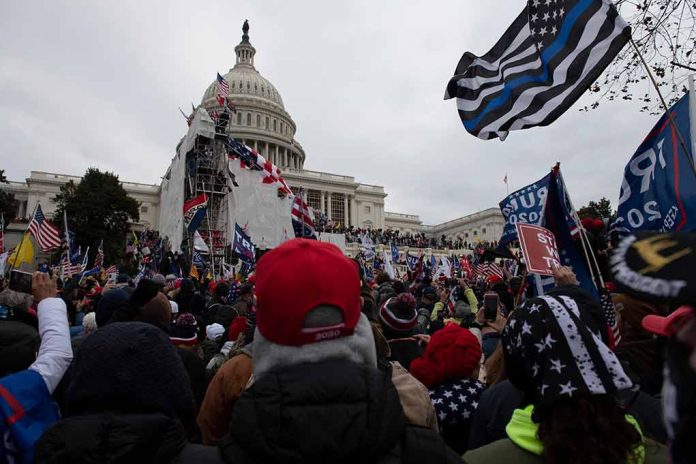 (Daily360.com) – Video being circulated online seems to show an undercover policeman admitting to taking part in the chaos of January 6, 2021 (J6). The excerpt making the rounds is part of a longer video in which we see a uniformed Capitol Police officer reacting to the effects of pepper spray. 
The officer is interacting with a man in civilian clothes. The man in civilian clothes tells the uniformed officer "we go undercover as Antifa in the crowd." As the camera turns we can see the man in civilian clothes, holding a bottle and wearing a police badge around his neck. He asks the uniformed officer to put the bottle in his backpack while he moves the camera and the officer quickly obliges. 
He then picks up the camera and walks a short distance before putting it down to speak with other uniformed officers. When he picks the camera back up, we can see the man is then wearing a hood, and a nose and mouth covering with goggles on his forehead. He then proceeds to record incidents between citizens and officers from the police side of a street barrier. 
As J6 videos continue to come out it seems likely that official agencies had several people embedded in the crowd that day. Former President Donald Trump was recently indicted in Washington D.C. over J6 events by Attorney General Merrick Garland appointed special counsel Jack Smith. 
A recent Truth Social post by Trump is adding to public doubt over the official narrative about the events of J6 Trump stated that, with his legal team's subpoena power related to the indictment, his camp requested materials from the J6 Committee. This committee spent millions of tax payer dollars on the investigation. Trump learned that the committee destroyed all their records and evidence and could therefore not Trump anything to review. As a result, he called the process "corrupt" and said this is more evidence that the United States is a "nation in decline."
Copyright 2023, Daily360.com