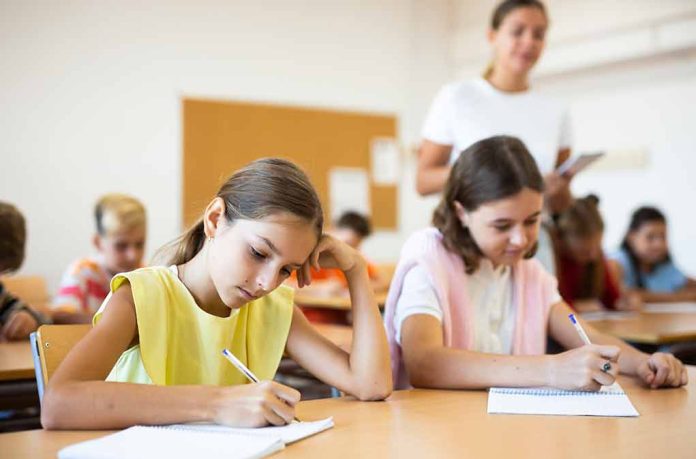 (Daily360.com) – A stabbing attack in northern France that left one teacher dead and two other staff members in critical condition is suspected of being an act of terrorism. The alleged murderer has been identified as 20-year old Mohammed Mogouchkov, a Chechen refugee who had previously been a student at the school.
It's been reported that while killing 57-year-old French language teacher, Dominique Bernard, Mogouchkov was shouting "Allahu Akbar". The other staff members, a security guard and gym teacher, were stabbed while attempting to assist Bernard. Witnesses say they heard the men yelling "he's got a knife", video allegedly shows Mogouchkov stabbing the men during the confrontation and again as they lay on the ground.
Mogouchkov, who arrived in France as a refugee at the age of five in 2008, is known to authorities and was on their 'Fiche S' list; a watch list for people who are viewed as security risks. Police say they have been surveilling his phone communications and questioned him last week but had no reason to suspect this attack was coming. They are now speculating this may have been a spontaneous attack.
Mogouchkov's older brother was arrested in 2009 on suspicion of planning to launch a terror attack in the country by France's counterterrorism intelligence service. Additionally, Police have arrested Mogouchkov's 16-year-old younger brother in relation to this attack.
The attack may be linked to Khaled Meshaal, the former head of Hamas' calling for a "day of Jihad" as a reaction to Israeli activity in Gaza. Students inside the school were immediately put on lockdown at approximately 11 a.m. and some reported seeing the attack. They said one of the critically injured teachers yelled for them to get into the school and find safety.
The attack sent shockwaves through France, a country that has dealt with several similar attacks in recent years, including the beheading of a teacher in 2020 at the hands of another Chechen refugee. France's President Emmanuel Macron traveled to the school and was seen standing by Bernard's blanket-covered body. Macron also met with students as police set up a fortified perimeter around the school.
Copyright 2023, Daily360.com