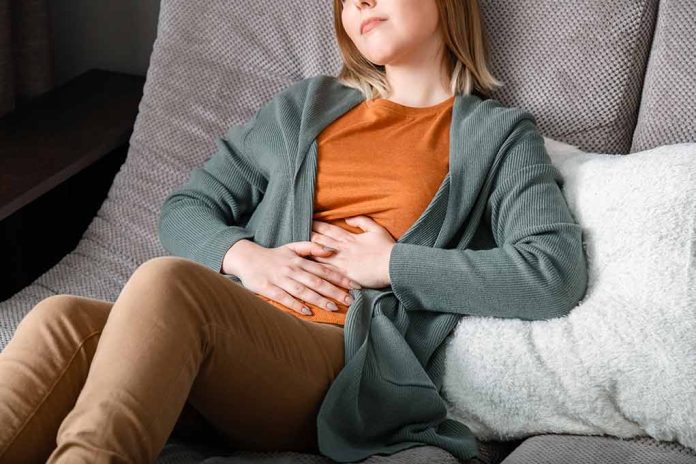 (Daily360.com) – A 33-year old woman named Natasha Inman of Leeds, England received a stunning diagnosis recently. Inman went to the doctor for what she expected to be a routine visit and check up when the doctor encountered a problem. While attempting to conduct a regular Pap smear test the doctor could not perform the test because something internal was preventing instrument insertion. 
Inman was immediately scheduled for follow up testing to find out the reason for this obstruction. After the results of numerous scans Inman was told she had four ovarian cysts. These cysts had grown so large that the resulting bloating was equivalent to carrying a five or six month fetus. 
Inman was shocked by the diagnosis as she said she had no symptoms and did not think anything was wrong. She thought she had some routine bloating which only seemed to affect her gym routine if she lay on her stomach. The financier had to have a Caesarian section to remove the tumors. She says after the procedure she just went on with her life but unfortunately this was not the end of the ordeal. Roughly two weeks after the C-section her doctor asked her to return to the office to discuss the test results of the now removed tumors. 
Inman's doctor told her they tested positive for stage one ovarian cancer and further treatment would be required. The attractive Inman who regularly posts to her social media said she was afraid and was especially worried about hair loss. Natasha Inman required chemotherapy. 
She has always wanted to have children and as a precaution she froze her eggs prior to treatment just in case she'd be unable to conceive afterwards. She wore a cold cap hoping it would save her hair but sadly it didn't as most fell out. Inman has been courageous in her treatment saying she is grateful for circumstances that allowed her to catch the cancer and treat it early. Inman has praised her true friends and although she has a wig, she's posted pictures of herself to social media showing her hair loss and facing it with dignity.
Copyright 2023, Daily360.com