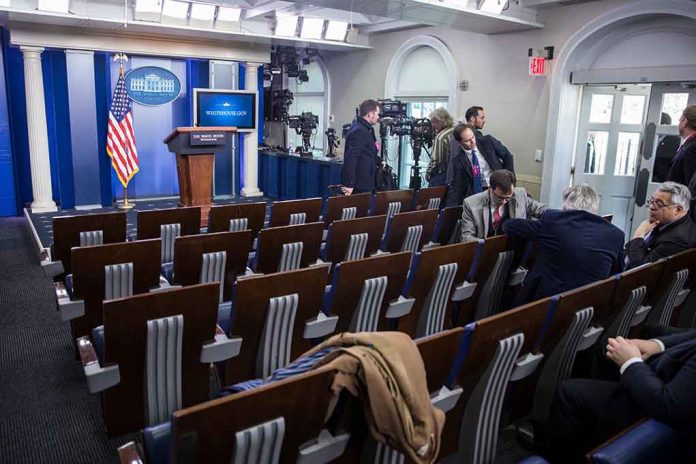 (Daily360.com) – The White House Press Secretary Karine Jean-Pierre, known for wearing bright colors and reading her responses from a binder was thrown a curveball this week during her daily press briefing. Today News Africa reporter Simon Ateba apparently hit his personal limit by being disrespected and ignored. Jean-Pierre had segued the briefing into a promotion for a television show called "Ted Lasso", the cast is reported to have been there to discuss mental health. The show's star Jason Sudeikis even took a question from a reporter. After which he joined the show's cast standing behind Jean-Pierre, all were smiling and laughing, that's when Ateba voiced his displeasure with the briefings and how they are run.
Ateba charged Jean-Pierre with making a mockery of the First Amendment in his disruption. Jean-Pierre, concerned for the actors turned to them and said "fun times, welcome guys." Another voice can be heard saying "decorum." Later Ateba appeared on Tucker Carlson's show and explained how he believes Jean-Pierre plays favorites. He said she has a select few reports she accepts questions from. These people sit in the front, while him and others sit towards the back. He has not been selected by Jean-Pierre in several months despite African officials visiting the White House and key personnel visiting Africa. He says he's followed every procedure to try and remedy the situation but all have been ignored.
Surprisingly, the press corps surrounding Ateba voiced concern, not on his behalf but rather on behalf of Jean-Pierre. One journalist said they're "tired of dealing" with Ateba. Another shouted, "It's not about you, Simon." One reporter Brian Karem told Ateba to "mind his manners" while in that room. Jean-Pierre looked on as the reporters defended her. It should be noted during President Trump's tenure, reporters could often be seen shouting out of turn and arguing with the press secretary with no similar calls for decorum. One such incident featured that same Brian Karem being dismissed for unruly behavior and shouting at then Press Secretary Kayleigh McEnany.
Copyright 2023, Daily360.com