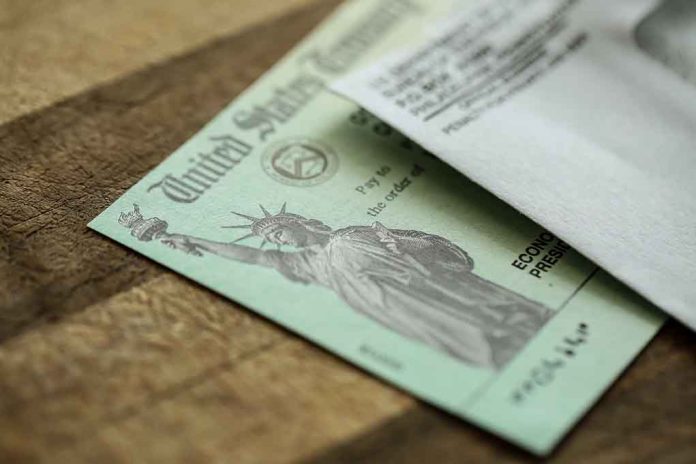 (Daily360.com) – The last few years have been difficult for most Americans: a pandemic, the rising cost of rent and other goods, and wages not rising fast enough to match, if at all. Fortunately, the federal government sent out multiple stimulus checks to keep the economy moving and provide relief to struggling Americans during the early pandemic. The IRS sent this money out in three payments: an April, 2020 payment of $1200, a December, 2020 payment of $600, and finally a $1400 payment in March of 2021.
Because this money was (and is) so needed, there have been several grassroots attempts via public advocacy groups to get Congress to authorize more stimulus payments. However, these initiatives half failed to gain traction on Capitol Hill.
In addition to the loss of these stimulus checks is the end of the expanded Child Tax Credit. The now expired expansion was an early pandemic-era credit. It provided families with $300 per month for each child under 17 living in the home. While the IRS still provides the Child Tax Credit Deduction, families miss those monthly checks that helped them so much in tough economic conditions, some of which still persist now.
While there aren't any federal stimulus checks coming in 2023, some states have decided to provide extra payments in 2023. Some are mandated to do so by revenue cap laws. Each individual state decides how to spend and disburse the funding, if it is available.
Other Benefits For Families in Need
If you're really feeling the loss of those stimulus packages, there's still hope. There are other means of federal assistance for families who need it. If you are low income, consider applying for the following programs:
Supplemental Nutrition Assistance Program (SNAP)
Otherwise known as "food stamps," SNAP provides individuals and families with money monthly via an Electronic Benefits Transfer (EBT) card, which functions similarly to a debit card. It can only be used on certain food-related goods, typically at the supermarket. The federal government funds the program, but it's administered state by state. Most SNAP recipients have an adult over 60 years of age in the family, a disabled family member, or children.
You can get SNAP if you are a documented non-citizen or US citizen with less than $2,750 in assets, or $4,250 if the household member is disabled or above 60 years of age. Non-citizens qualifying for SNAP must have lived in the US for five years or longer, be a child under the age of 18, or receive other disability benefits and assistance.
You can apply for SNAP via the USDA website and click on your state. Be prepared to upload documentation proving income and assets.
Section 8 Housing Vouchers
Housing vouchers can help families get housing. This is funded through the Department of Housing and Urban Development, and the housing that comes from this program must be safe, sanitary, and decent. It's intended for very low income families, families with a disabled family member, and the elderly, and it comes in the form of rental assistance. If you qualify for Section 8 vouchers, you can find your own place to live or head into government-subsidized housing. HUD pays a portion of the rent monthly directly to the landlord.
To qualify for Section 8, you must be a US citizen or a non0citizen with qualified immigration status. Your family income must not surpass 50 percent of the metro area or county where you live. You can head to the HHS website to learn about local limits, but you must apply through your local Public Housing Authority.
While it's difficult to no longer receive federal stimulus checks, it's good to know that there are still some forms of federal assistance available to the American public. If you're still struggling, apply to one of these programs immediately.
Copyright 2023, Daily360.com