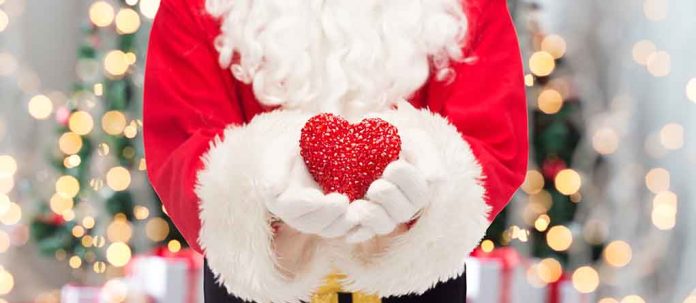 (Daily360.com) – Is your family struggling during Christmas time this year? If you're facing difficulties paying the bills or keeping the lights on during the holiday season, there is help available. If you're coming up short for money for gifts and your kids are expecting presents this year, there are also organizations to help with that. From having a warm home to enough food for a feast to their favorite toys, consider taking advantage of one of the many available resources to ensure you can still make Christmas merry and magical.
Here are some resources to help:
Feeding America
Feeding America is all about making sure you and your family have enough food — not just at Christmas time or for people who celebrate Christmas, but for everyone, year round. You can find your local Feeding America food bank on their website and register to receive a special holiday meal box so you can enjoy a feast complete with all the necessary ingredients.
Prison Fellowship Angel Tree
Are you raising children impacted by incarceration? The Prison Fellowship Angel Tree collects gifts for kids with incarcerated parents, lessening their hardship during this difficult time. Incarcerated parents can register for their kids, and donors contribute to make sure the children receive the gifts. It's especially difficult for kids to be away from their parents this time of year, but this organization makes it a little brighter by facilitating that connection.
Trees for Troops
Children of service members are another group of kids often estranged from their parents during the holiday season. In honor of this family sacrifice, Trees for Troops helps service members and their families get trees every year. Because military families sometimes have to move around a lot, they often exist in a one-income household, making it hard to avoid that tree and its shiny star. Families of at-home and deployed service members are eligible to receive trees from Trees for Troops.
The Christmas Tree Project
If you're from a non-military family but still could use financial assistance getting a tree, consider contacting The Christmas Tree Project. They'll get you a fully-decorated tree. It's festive, magical, and comes with a special theme. Your family will never forget such a magical gift, and you can ensure your funds are directed instead towards food and gifts. Imagine your children waking up to a spectacularly decorated, healthy, brilliant tree this year.
Toys for Tots
Toys for Tots gets toys and other gifts to children in need. The United States Marine Corps runs the organization and children through the age of 12 are eligible to benefit. If you'd like your children to have some gifts under the tree thanks to Toys for Tots, reach out and arrange it. Toys for Tots volunteers appear in uniform to collect gifts during the holiday season.
Local Resources
Many food banks, soup kitchens, gift distribution centers, and other charities function via community-based impact. Religious institutions, food pantries, and other charitable institutions usually begin their fundraising in October so they can have enough to help families in need by Christmas. If you need help covering regular bills (especially as heating-related energy bills increase dramatically), consider reaching out. If you're not sure where to check, your county level government should be able to point you in the right direction for charitable assistance.
As Christmas draws near, it's imperative to ensure your family remains happy, safe, and healthy going into the new year. The support they need could look like new shoes, a toy that they want rather than need, or going to bed and waking up in a warm home.
Copyright 2022, Daily360.com