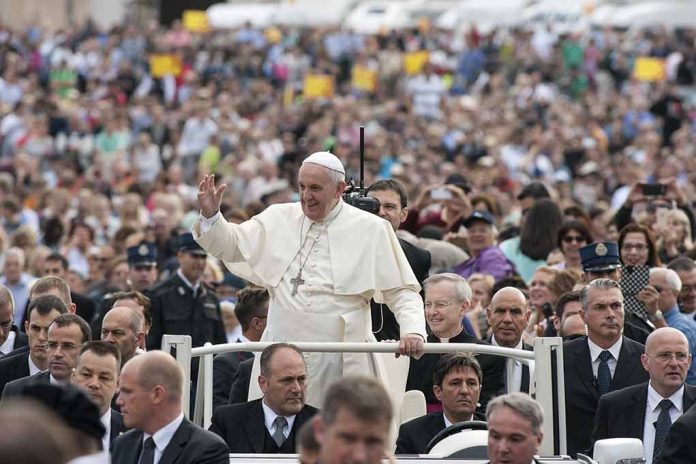 (Daily360.com) – Prop Francis was set to read a speech when he met with European rabbis earlier in the week, but he was too ill to do it. Instead, the 86-year-old pontiff gave each rabbi a copy of the speech and met with them individually. He informed the rabbis that he was well enough to greet and meet with them but did not have the energy to read the speech. The Pope said he hoped they would read it and understand his solidarity with them.
Matteo Bruni, a spokesperson for the Vatican, explained that the elderly pope had a long day of audiences and was suffering from a slight cold. Bruni said the rest of the pope's activities should proceed normally. After the rabbis, Francis was set to meet with children from around the globe.
The speech he would have delivered but instead handed out referenced the Hamas attacks on Israel and the Jews. It included the hostage taking and the importance of preserving the "Land blessed by the Most High" during the now-ongoing war. The Pope's letter also positioned Israel as a country that is under constant threat and one that "seems continually assailed" by hostile enemies consumed with hatred.
Pope Francis's speech delved into anti-Semitic incidents taking place in other nations like Italy, France, and Austria. He said these attacks are of "great concern" to him and he "strongly" condemns them.
Francis said he's calling for compassion to overwhelm hostility and hate. He hopes all involved will start to care for their neighbors and leave behind the "folly of bitter hatred."
Pope Francis has been having a variety of health issues recently. He's had abdominal surgery twice and is often forced to use a wheel chair due to an ongoing knee condition. Earlier in the year, Francis was hospitalized for what was initially believed to be bronchitis but he later stated it was pneumonia. The Pope is still looking to attend December's COP28 combating climate change conference in Dubai.
Copyright 2023, Daily360.com